Archive for July, 2008
If you're looking to swankify your space, now's the time to do it. We just stumbled upon Target's Fab 500 sale and they've selected their bestselling items and marked them waaay down. So if you've been meaning to replace your old couch or dining table, add an arm chair to your conversation area, or gussy up your bedroom on the cheap, now's the time to make your move. But the sale ends this Saturday the 19th, so ya better get down to business.
Here are a few of our favorite finds. They're so gosh-darn gorge (and inexpensive to boot) we almost can't believe our eyes. First this $599 tufted sofa (with free shipping no less). We've been loving a similar version at Crate & Barrel for $1500+ so you can imagine our glee to find this version for almost $1000 less!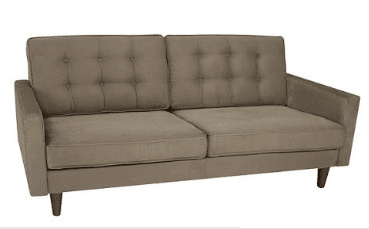 Next we discovered this cushy and comfortable armless chair- perfect for a living room, family room or even the corner of a bedroom. The durable microfiber fabric is dog and child friendly and the casual yet chic design complements any decor. And the oh-so-sweet price of $289.99 is almost too good to be true.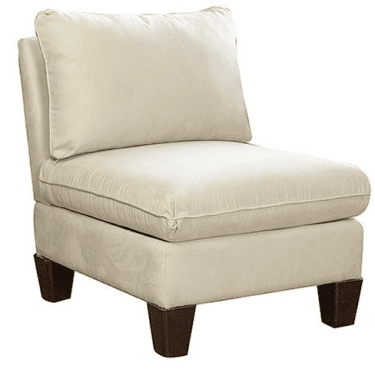 This $239.99 slipper chair is also über chic- and sure to garner more than a few compliments. It would look great with beachy, light decor, and would really pop in a pale blue living room or bedroom (we love how reddish-pink coral colors look with pale blue).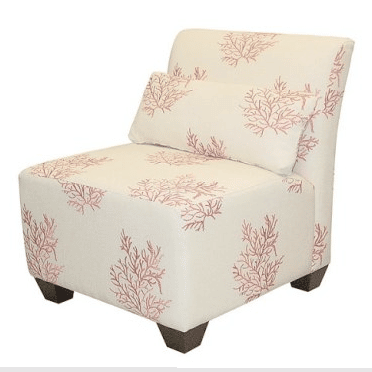 Just when you thought we were all chaired out, we found another fabulous place to take a load off. This plush patterned pillowtop chair is on sale for $314.99, and we think it would totally elevate the look of an entire room (for much less than the average overstuffed chair).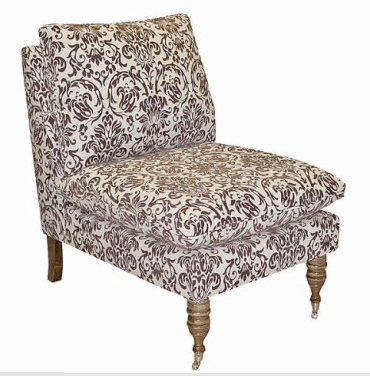 This weighty pedestal dining table looks like many that we admire on Overstock.com for around a thousand dollars, so you should have seen my face when I discovered it was only $249.99. Somebody pinch me.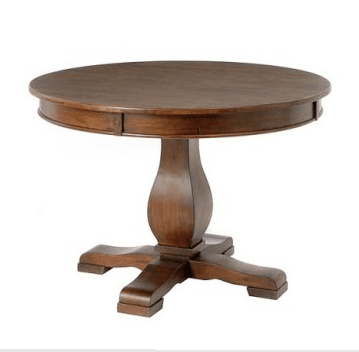 And this swank wooden queen sized bed (marked down $100 to just $529.99 with free shipping) would certainly update and chicify any bedroom for years to come.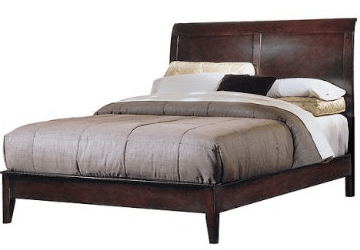 And if clothing storage is the name of the game, this sophisticated dresser (look at those fabulous drawer pulls) is only gonna run ya $224.99.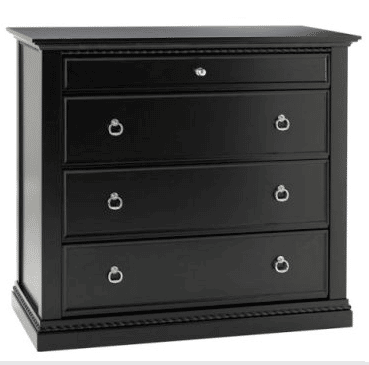 Just wanted to spread the word about our swoonworthy steals and deals of the week. Happy shopping!
We're back to take your pulse on another "controversial" interior design topic. Should kitchen trash cans be a public affair, or do you prefer a hidden trash can under your sink or in a pull out cabinet? There are some pretty fabulous looking cans these days (Simple Human anyone?), with convenient foot pedals to make 'em easy to use and easy on the eyes. But is the convenience worth the exposure, or are trash cans better behind closed doors?
We wanna know how you guys live. And if money (and storage) was no object, would you do anything differently? What about recycling? How do you keep your cans and cartons corralled? Let the great garbage debate begin…
Drumroll please. Strike up the band. Drop the confetti. Release the doves…
Can you tell we're beyond excited to share Stacie's amazing Young House Love inspired master bedroom transformation? A few weeks ago we whipped up a mood board, and Stacie spared no time putting our plan into action. But even we couldn't predict the insanely dramatic makeover that ensued.
Here are a few of the "before" shots: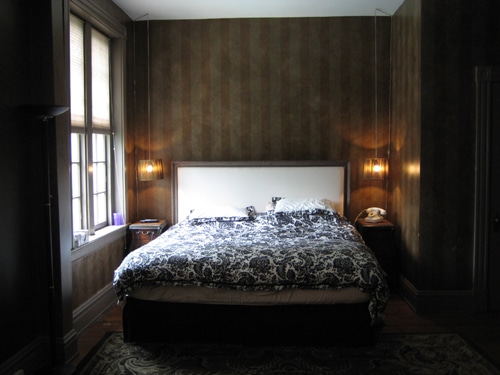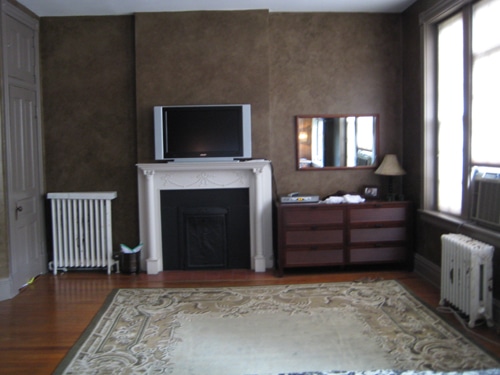 She wanted a lighter and brighter room with a clean and contemporary look (and a dash of hollywood regency) while keeping the current headboard, dresser, tv, pendant lights, and window shades. Here's a look back at the mood board we created that sparked such a major makeover:
And here's Stacie's totally transformed "after" of a bedroom thanks to a bunch of items from our mood board as well as a few additions that were inspired by our suggestions: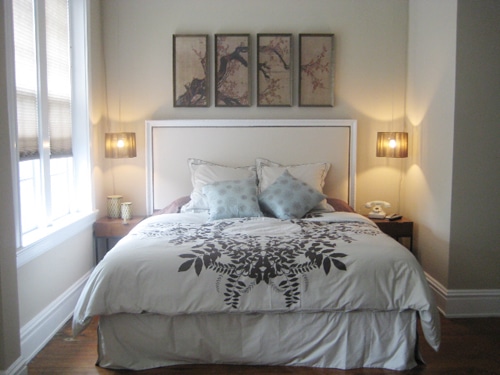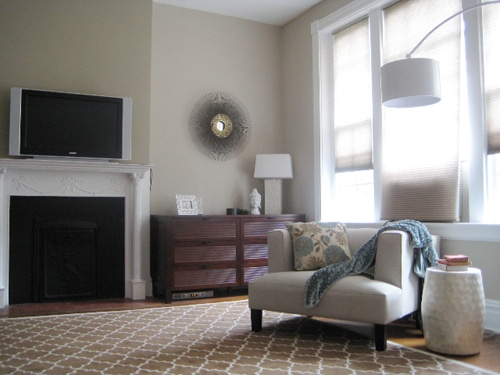 Everything from our new wall color suggestion and accompanying color scheme to our idea to paint the frame around the existing headboard and create a seating area with a fun white arc lamp completed this major bedroom makeover on a dime. And Stacie didn't even need to purchase every single piece from our mood board, she happily took our new light & bright bedroom concept and ran with it, which actually saved her even more money along the way. What does she think of the transformation? Well…
Can't thank you enough for all the design advice and help. You have inspired me to overhaul my my dark, cave-like bedroom, and the outcome is amazing. The mood board was so awesome! Some of the ideas I took exactly from you, and some I interpreted in my own way. The main thing is the paint color. I am a paint color spaz, often painting 3 times until I get a color I like. But I threw caution to the wind and just put up exactly what you recommended and I LOVE IT!!!!!! So bright, airy and calming at the same time. Painting the radiator to the left of the fireplace a dark color to balance my dresser was genius. Love the arc lamp you found too, and painting the headboard was the best idea. I decided on a bolder rug, and different bedding but I added in the cool blue green color you suggested with pillows (on the cheap from Marshall's) and a $13.00 (!) velvet throw for the reading chair. These pics don't even do it justice but I wanted to get some afters to you asap. I am now a loyal fan and daily reader of your blog… keep up the good work!! – Stacie
We love Stacie's new master bedroom (and the fact that she worked her butt off over the past few weeks to get us these afters) but we're dying to hear what you guys think. Feel free to shower her with the praise that she deserves and steal a few ideas of your own.
Update: We sadly can no longer find the time to take on client commissioned mood boards (we now whip up general inspiration boards instead) but if we ever reinstate them we'll make a big announcement!