Archive for July, 2008
When Amanda wrote to us for design advice, we couldn't wait to cozy up her stunning and spacious new home. Here's her letter:
Love your house. Love your style. You almost inspired me to sell my house and start looking for a rancher of my own. =) My husband and I have just finished a house and now that we've started moving furniture in, I'm realizing that we need some help making our first house feel like a real home! This big open room so reflects our life (the kitchen, dining room and living room are all open to each other) but right now it feels staged and not as comfy as I'd like. I want people to just feel like falling onto my couch and staying for a while when they walk through the door. That is why I chose the darker color for the walls. I'd probably call my style "rustic modern" but I also like the look of Pottery Barn and Pier 1. The wall color has to stay as well as the couches (but if the color is off I'm open to slipcovering). I would also like for the dining set to stay. Some of the main things I need help on are throw pillows, curtain ideas, accessories and accent colors. Thanks so much in advance for your help. No pressure, but I am counting on you guys! – Amanda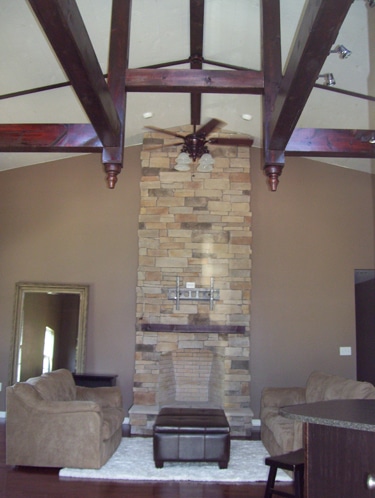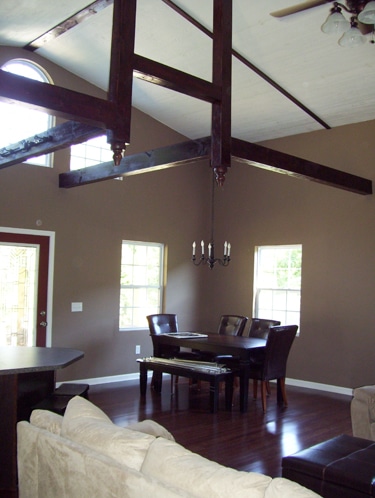 The soaring beams, rich wall color, and wide open space have so much potential, but we can definitely see the challenge that such an expansive space can pose. Without further ado, our handy dandy rustic modern mood board:
Here's the mood board breakdown.

Read the rest of this entry »
&nbsp&nbsp&nbsp
This quote from Claire Donohue- a decorator in July's House Beautiful- really inspired us:
Get rid of stuff. Choose one set of dishes for all occasions, one saute pan, and one set of glasses- those stemless wine glasses work for juice, cocktails, wine, milk. Live only with what you love and use daily. Think of it as a different kind of abundance.
It's easy to get caught up with wanting more than you need (and buying things you'll never use), so even though we're always posting about steals & deals, it's nice to sit back and remember that the most peaceful places and spaces always demonstrate that less really is more.
Here's to living light!
&nbsp&nbsp&nbsp