Archive for July, 2008
Ever since we saw an image on bhg.com a few months ago with open shelves and baskets, we started thinking about taking the door off of our bathroom's linen closet. We realized that a few chic baskets could convert our claustrophobic closet into clean and functional open shelving (by now you know we're crazy about open living). And then when we crashed Lesley & Jeff's fabulous home, her doorless bathroom closet sealed the deal: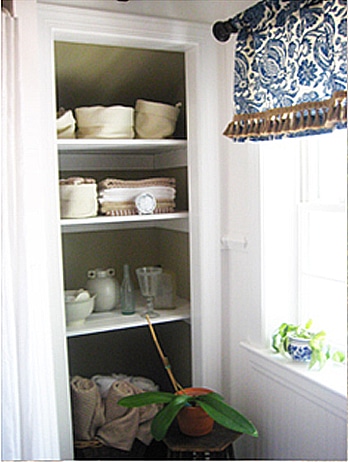 But first some photographic proof as to why our current closet door situation was so not working for us. Check out the serious door war that regularly occurred between the linen closet door and the bathroom door. Argh! Talk about a design flaw.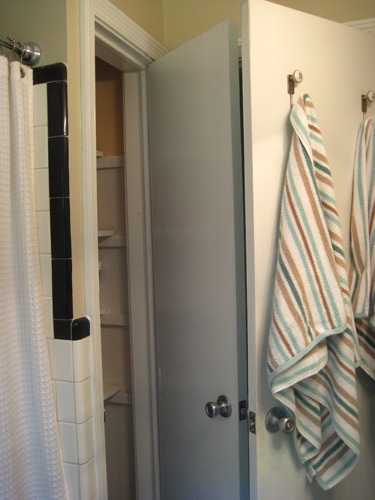 So one day while John was sittin' pretty at work, I took a screwdriver, a hammer and a crowbar to the door and off it came (along with the door jamb so that the opening looked a lot more like a built-in shelving nook than a doorless linen closet).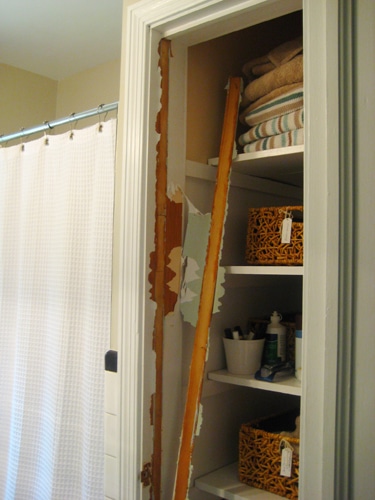 After we erased any evidence that a door once existed (by caulking the hinge holes and removing the door latch) I extended the bathroom's soothing tan wall color into the nook (Glidden's Sand White) and painted the door frame and the shelves a crisp glossy white.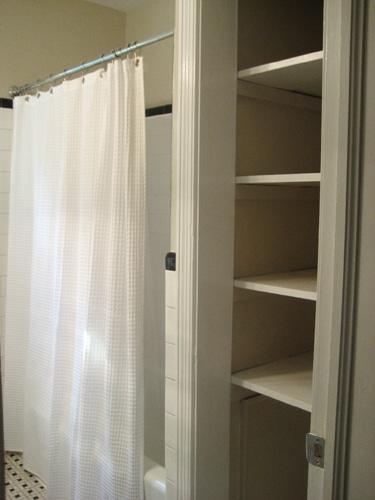 Then I just reused the baskets that already housed our sheets and towels and introduced some other creative storage solutions from a few objects that we had laying around the house (two cheap white Ikea planters for nail polish and toothbrushes). Even the toilet paper looks great in its newly spiffed home.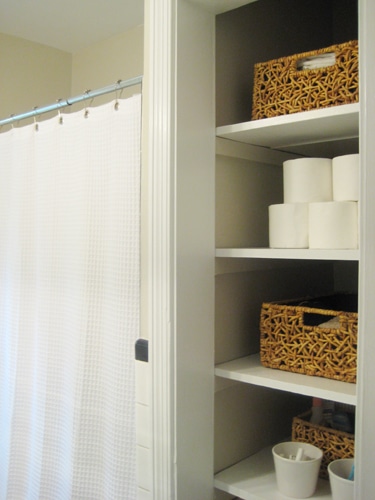 But the entire project wasn't entirely free, we did splurge on two bigger baskets (for a few more towels) to stack on the floor of the closet. Luckily we scored 'em at Michael's for 50% off, so we basically got two large rectangular woven trunks for the price of one (25 measly bucks total). Not bad for the entire bathroom closet project.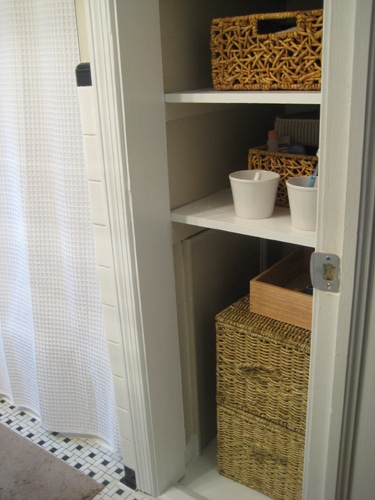 So what do you guys think? Could you live with an open linen closet or do you think some things are better left behind closed doors? And don't worry, we're totally aware that we're waaay more into open storage than the average bear. Luckily we're also waaaay more compulsively neat than the average bear (to a somewhat insane degree) so it's perfect for us. Whatever works, right?
&nbsp&nbsp&nbsp
We're back with another handy dandy tutorial, and this time it's an exciting lesson in chair covering. The main takeaway should be that this is a super simple way to completely reinvent a chair. Seriously. It's a snap. So let's get stapled, er started.
The white fabric on this antique chair was a little yellowed and stained from years of use. So Emily (John's frequently mentioned sister in law) and I hit up a local fabric store to grab something funky and fun to update this family hand-me-down of hers.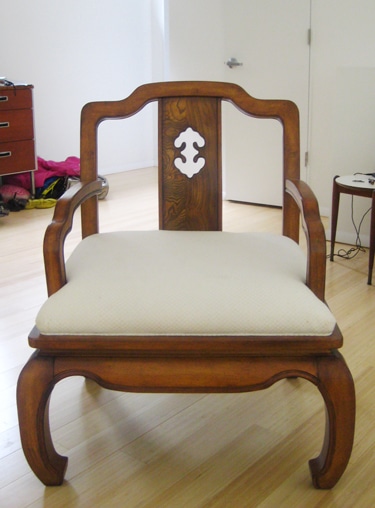 After we scored two yards of sateen & chenille fabric with a fun and dramatic oversized damask pattern (for just $18!) we whipped out a pair of scissors, a screwdriver, and our $12 staple gun and we were in business.
Step 1: Remove the chair's seat bottom with the screwdriver, and strategically lay the cushion upside-down on the upside-down fabric so that the pattern is straight and centered. Then get to work stapling the new fabric right over the old stuff. Be sure to pull the fabric tight and keep it straight as you work your way around the seat, adding a staple every two inches or so for a secure hold and a pucker-free result. It also helps to periodically check that the front of the cushion looks tight, centered, and wrinkle free by peeking under the cushion as you go (so there's no big surprise when you flip it over 40 staples later). Also remember that if you think it looks loose or crooked, it's easy to pop out a few staples with a screwdriver and re-do 'em. So there's really no possible way to screw this step up. Promise.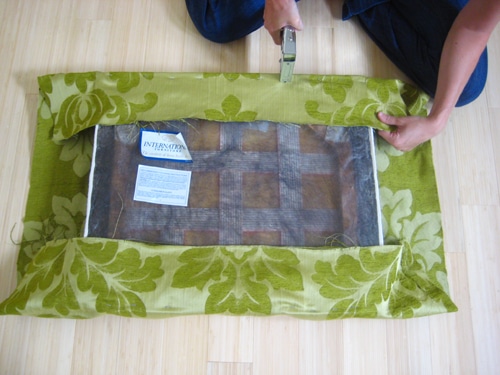 Step 2: Take special care when stapling the corners. It's the only semi-challenging part of the process (and when I say semi-challenging I don't mean hard, I just mean that you can't totally be on auto-pilot). This chair was particularly angular (most dining room chair cushions are square or rectangular) but it was still pretty simple. Just pretend you're wrapping a present. Tuck the fabric to create folds that are hidden under the seat so that the front of the cushion is snugly wrapped and wrinkle free. It also helps to flip the cushion over as you hold the fabric (before stapling it into place) to be sure that you like how everything looks in front before you pull the trigger.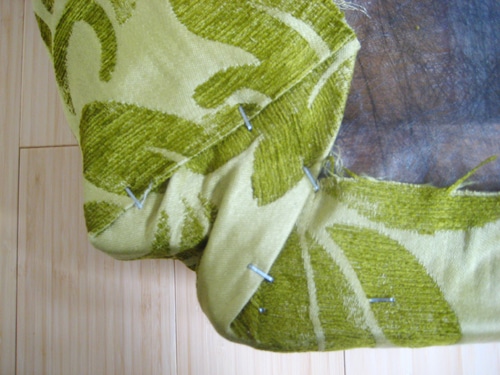 Step 3: Continue to staple the perimeter until you're left with a securely covered seat cushion that looks something like this. You can trim the excess fabric if you'd like, but I usually just leave it alone since it's hidden once the seat's in place.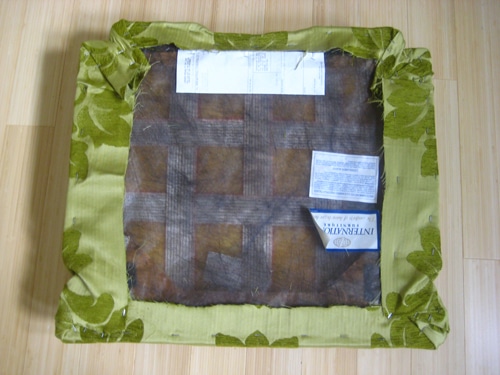 Step 4: Screw the cushion back into the chair and do a spirited victory dance as you admire your handiwork. We just love how the patterned fabric is perfectly centered- it looks like a professional upholstery job and it took ten minutes! The total chair transformation will truly be complete with the addition of a few plush tan and green pillows to cozy up the wooden back of the chair and complement our new patterned cushion.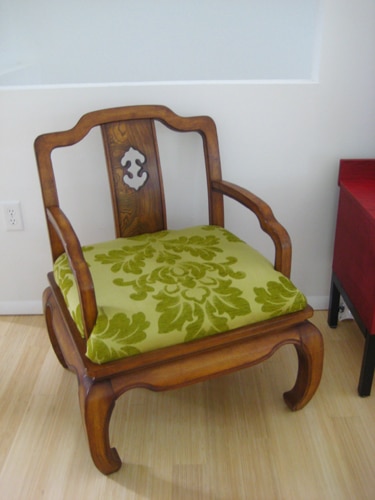 Oh and for an even bigger presto-change-o, you can also paint the chair when you remove the cushion. How cool would this baby look with a coat of crisp white paint, glossy black paint- or even pale sage green paint to play off the patterned fabric? The possibilities are endless. So go ahead and get stapling- and don't forget to send us your before and after pictures! We're total suckers for a fabulous chair.
&nbsp&nbsp&nbsp