Archive for July, 2008
After a bunch of people wrote to us asking how we upholstered the green headboard in our guest bedroom…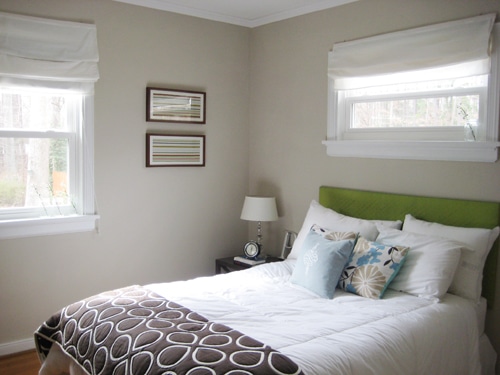 … we thought we'd invite you to join us for a quick tutorial. And since John's sister Emily was itching to make a pink headboard for her daughter Olivia's bedroom, we got to show her how simple the process can be as well. And don't be nervous, it's truly a super easy undertaking. If you can wrap a present, you can upholster a headboard. Honest.
First, visit an art store and purchase a wooden frame that's meant to stretch canvas. A craft store won't carry these, but any true art store will. As for the size, you should aim for the exact width of the bed but the height is up to you (you can use painter's tape on the wall to experiment until you find a height that you like). You'll also need enough fabric to cover the canvas frame with a few inches to spare, the same amount of batting (the thickness is up to you- the plusher the batting, the plusher the headboard). Then all you need is a regular old scissors and a staple gun (you can purchase a manual one for about $12 at Lowe's) and you're ready to roll. *Note: You can substitute a piece of plywood for the canvas frame if you're looking to create a headboard that's extremely durable (ie: for people who lean against it all the time to read or for a boisterous child's room) – it will be stiffer, heavier and a bit trickier to hang, but virtually indestructible.
Step 1: Cut your batting a few inches larger than the frame, wrap it around the back of the frame and staple it in place. I like stapling things at twelve o'clock, three o'clock, six o'clock and nine o'clock first to keep things tight and straight (sometimes starting at one end and working your way around can cause it to slowly shift or loosen, and you want a straight, tight fit). Continue to staple the batting around the frame every two to three inches until you've worked your way around the frame and the batting is snug and secure.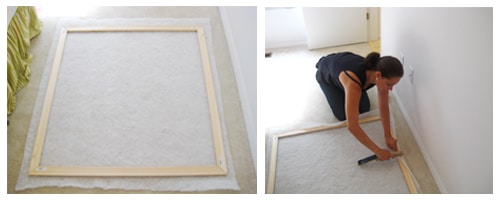 Step 2: Cut the fabric a few inches larger than the frame and follow the same stapling steps outlined above. Be sure that your fabric is straight if it has any sort of pattern (line it up carefully and be sure to check for any shifting as you go). When it comes to the corners, just treat them as if you're wrapping a present and fold them over so that they have a seamless look from the front. (Note: staples can be easily removed, so if you need a do-over or two it's no biggie).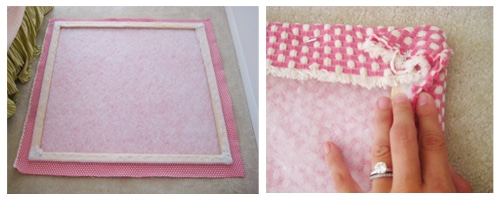 Step 3: Hanging this type of headboard is easy-peasy since it's super light (thanks to the canvas frame construction) so it's just like hanging a picture frame. All it calls for are two nails placed on the wall for the frame to hook over. Using a level can insure that your headboard hangs straight- and look how cute this step can be. Adorable.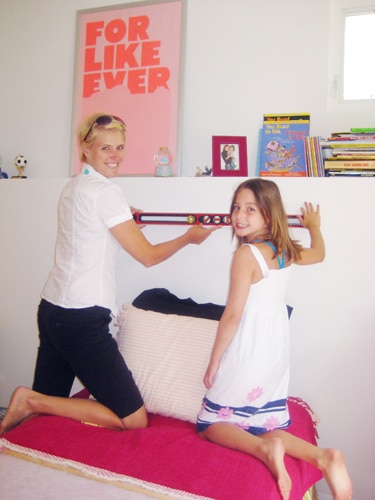 Step 4: Enjoy your swank new headboard. Olivia loves her plush pink palace and the polka dot headboard is the perfect punch of personality (say that three times fast).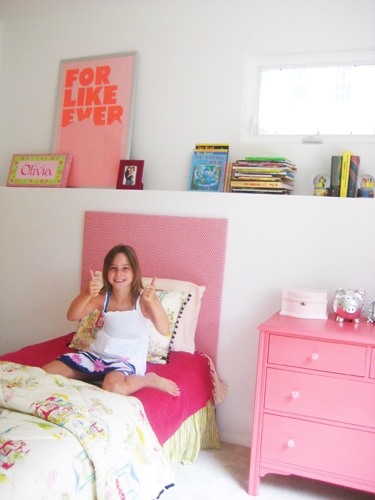 So there you have it, headboard upholstery 101. And here's a bonus fabric tip for ya: visit the fancy fabric store in your neighborhood. Every town has one (it's where the interior designers go) and in Richmond it's called Willaims & Sherrill. This may seem like a surprising suggestion from bargain hunters like us, but you can often find fabulous deals in the remnant section of the store. There's usually a table full of remnants (leftover pieces of fabric that have been marked down dramatically)- and most are still one to two yards, which is more than enough fabric for this project.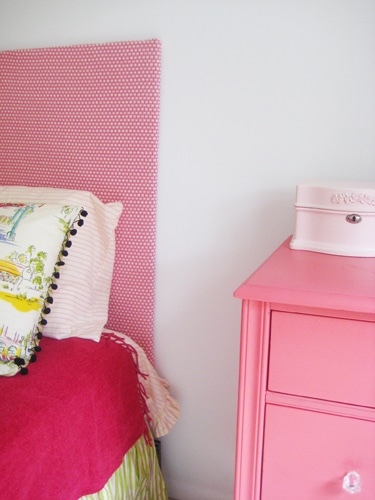 In this instance, Emily and I snatched up two yards of this thick woven swiss dot fabric (originally $24/yard) for around $19 total. Score.
&nbsp&nbsp&nbsp
All this wedding week chitchat must be making you hungry, so you're cordially invited to sink your teeth into a few of our delectable wedding day dishes.
Perhaps our most daring DIY feat was completely nixing the idea of a caterer in favor of taking on the entire wedding menu ourselves. I know we sound cuckoo-for-cocoa-puffs, but there were a few major reasons behind our seemingly insane decision. A lot of catering companies require a separate prep area and our modest rancher just didn't have the space. And we also thought strangers dressed in black peddling hors d'oeuvres in our backyard might be a little odd for our intimate affair. But most of all, we're just hopeless DIYers with an unhealthy attraction to seemingly impossible challenges- so even though feeding 75 people sounds like quite a job, it really wasn't so bad thanks to thoughtful planning, a few make-ahead components and some pretty crafty delegation (in the form of pre-prepared offerings with a gourmet spin).
We made our lives much easier by carefully designing a menu that didn't require any heat (other than our entrees which were cooked up on the grill) and called for nothing more than a single fork (when it came to side dishes and hors d'oeuvres, upscale finger food was the name of the game). Keeping our offerings simple (fresh fruit, cocktail shrimp, rotini salad, lemon pepper potato chips, etc) and adding an upscale twist when we could (like an unexpected ingredient or delightful dipping sauce) really seemed to work with our informal backyard wedding theme.
Another example of our "simple with a twist" approach to the menu was demonstrated in our main course choices, which we wrote out on a chalkboard hung above the grill for all to see.
Our guests approached the grill and ordered up their choice of a blue cheese angus burger with parmesan caesar dressing, sweet apple chicken sausage with honey dijon, or a tomato and cheddar veggie burger with basil ketchup. We actually made all the blue cheese burgers ahead of time (by adding chunky blue cheese dressing to ground beef and freezing the meat into patties to be defrosted that morning) but purchased the sweet apple chicken sausage along with the tomato and cheddar veggie burgers in bulk from the grocery store a few days in advance. Of course we splurged on some gourmet buns and added a little flair to the toppings (like a dash of fresh basil worked into the ketchup and the caesar dressing that topped the blue cheese burgers). A few fun twists on some old favorites really seemed to satisfy, and we purchased more than enough to go around (so people could try more than one entree if they so desired).
And even though we didn't have a moment to taste a thing, the overwhelming consensus was "mmmm" as demonstrated by lots of seconds and hardly any leftovers.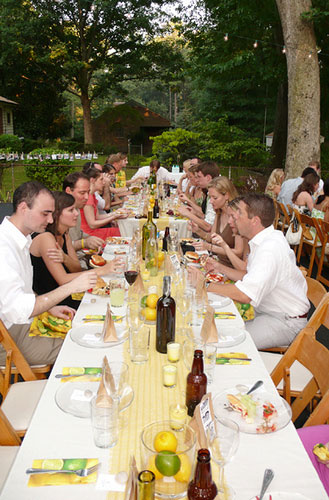 Another adorable detail thrown together by my hubby in the final hour (unbenownst to me since I was inside getting gussied up) were the extra lemons that John used to accent a big tin of ice cubes. Somehow the 10 cent lemons added so much more to the $8 galvanized tin of $2 ice… a true testament to something becoming far greater than the sum of its parts (and to my hubby's genius eye for style).
By far the most popular menu choice was the decision to keep it simple and serve Richmond's famed Ukrop's cupcakes. For those not in the know, Ukrop's is a local grocery chain, which just happens to have reached celebrity status for its heavenly vanilla cupcakes. We considered swankifying the cupcakes with green and yellow spinkles or lemon candies, but realized that to mess with perfection would be a mistake. And when served en mass the seemingly simple cupcakes transformed into a sea of creamy confections that people literally couldn't get enough of (several people confessed to downing four or five of 'em). And we can both agree that feeding each other cupcakes was a fun take on the ceremonial cake feeding tradition as well.
Another fun touch was the s'more roast we had at the very end of the night. After some of our friends and family had moseyed on home, the remaining guests had fun bringing the night to a close by gathering around our firepit and cooking up a melty treat for the road. Marshmallows, chocolate bars, and graham crackers are hardly budget busting extravagances, but the s'more roast was just another one of those memorable details that really stuck with people far after the embers went cold.
And just as all good things must come to an end, This Young Wedding Week must now come to a close. We hope it was as good for you guys as it was for us. Thanks so much for your enthusiasm throughout the exciting matrimonial extravaganza, and don't be too sad that it's over. After all, we have some pretty amazing before and afters in the hopper for the upcoming week so stay tuned…
*Drop in on our Wedding Album tab below the header to check out all the details of our big day from start to finish!
&nbsp&nbsp&nbsp