Archive for June, 2008
The June issue of R Home (Richmond Magazine's home-related offspring) had a great little story about a woman who stumbled upon a Knoll Bertoia Side Chair last year for a mere 25 bucks, far below its usual $500 retail price. This too-good-to-be-true mecca where designer pieces sell for average-joe prices? The ASID White Elephant Auction & Sale. So when this annual event stampeded back into town this past weekend, we were up bright and early on Saturday to be among the first ones there.
The ASID (American Society of Interior Designers) White Elephant Sale is basically a collection of leftovers – furniture, accessories, paint, fabric – from professional interior design projects. Think of it as a neighborhood yard sale, except that all of your neighbors have pretty good taste.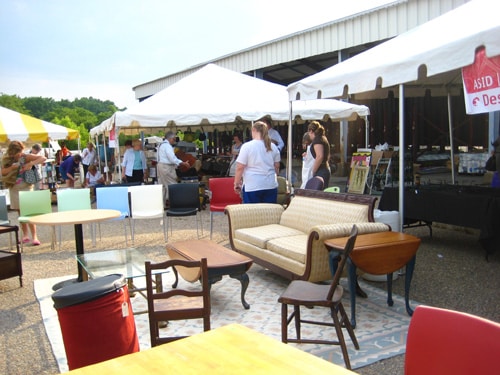 Not to kill the suspense, but we didn't buy anything. Despite being there right at 8am, it seemed most of the pieces that we typically drool over were sold the previous night at the silent auction – like this sleek wooden credenza (which we overheard sold for $45!) that was waiting to be picked up… taunting us.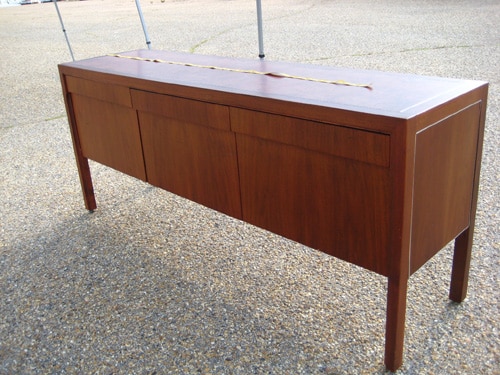 The sale benefited the Richmond chapter of Habitat for Humanity, so we got to learn more about the Habitat ReStore, which reader Ashley first mentioned to us last week. We didn't make it to the ReStore this weekend, but are expecting great things after seeing the spread at their booth. And their creative use of an old window officially won us over: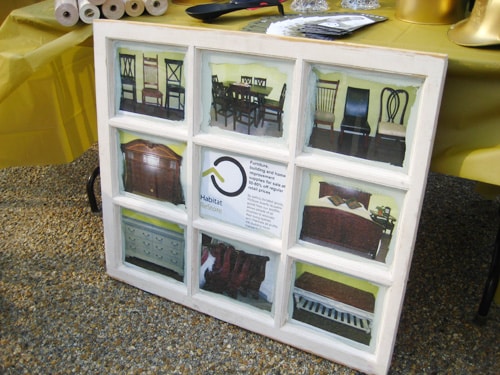 Next year we'll try to get the word out BEFORE the White Elephant Sale so our local readers can check it out too. Just as long as ya promise not to top any of our bids at the silent auction. Do we have a deal?
&nbsp&nbsp&nbsp
As soon as we received this basement man-cave makeover challenge, we couldn't wait to dive in. Often times the basement can become a confused mish-mash of muddled man decor, so we'll see if we can bring some order and efficiency (along with a whole lotta swoonworthy style) to Kelly's soon to be extinct man-cave. Here's her letter:
Please help me transform the 'man-cave' which has taken root in my basement into a less masculine place that we can all relax and enjoy. We have lived in our house for 4+ years, but this room has been the 'last frontier'. My objective is to make it more cohesive while maintaining its functionality as a TV room, computer room, music room & soon to be toddler play area. The flat screen TV might be going on the wall (not sure if Husband has the courage to try to hang it) and the furniture can definitely be moved around. The futon can go into storage but the couch, computer desk, CD case, and stereo must stay in the room. Style wise we're casual, and we like the Pottery Barn / Crate & Barrel look. I'm definitely open to a new wall color (as long as it works with the blue-gray tile on the floor) so hopefully you can come up with something. Can't wait to hear your thoughts! -Kelly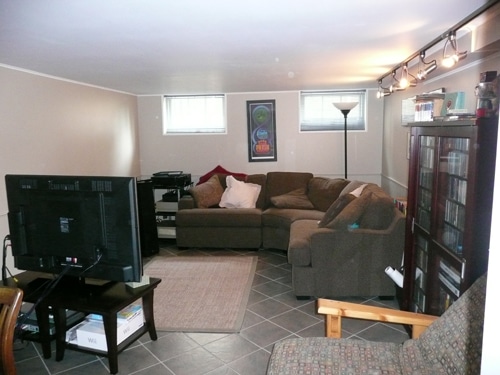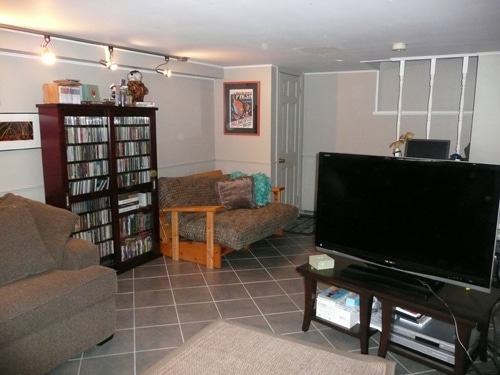 Ok, it's certainly a challenge, but there's nothing about this room that a little Young House Love mood board can't solve. We're excited to introduce something wife-friendly and kid-friendly with a whole lotta functionality folded in for Kelly's TV lovin' hubby.
Here's the mood board breakdown.

Read the rest of this entry »
&nbsp&nbsp&nbsp