Archive for June, 2008
When Meghan Carter came to interview us, we tried to pull out all the stops to make our house look its absolute best. We were sure to have a tasty assortment of apples in our clam-shell-turned-fruit-bowl in the kitchen and fresh towels in each of the bathrooms. Heck, we even Fabrezed a bit for good measure. But we opted against bringing in bushels of fresh flowers after deciding that lush leafy greenery looks just as fresh with our simple neutral palette (and conveniently grows in abundance just steps away in our backyard.
So we were sure to snip some fresh ferns for a few bud vases in our bathrooms: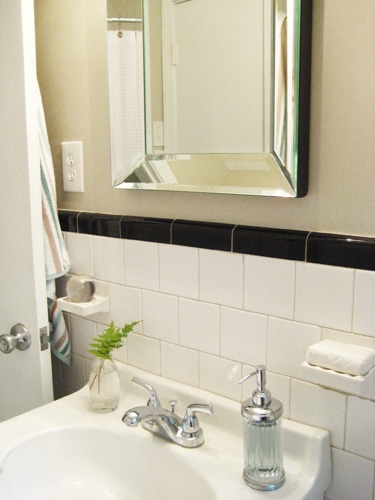 And to bring in some heavier artillery (in the form of some big leafy branches) for our oversized glass bottles in the living room.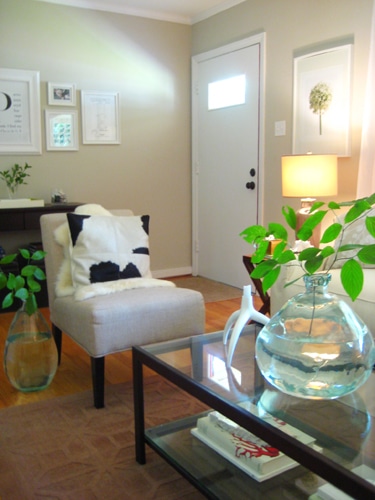 And just look how good those leafy greens look with the red front door… gotta love complementary colors.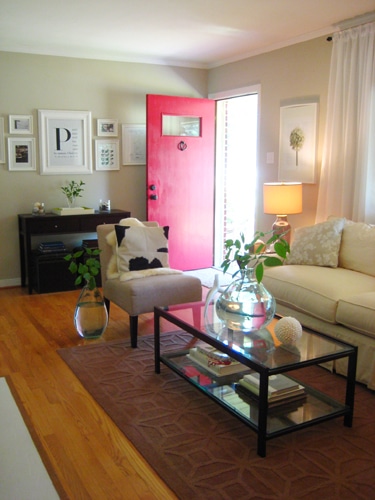 Do you guys have any rituals to get your house ready for special guests? Or any cheap decorating tricks like robbing your yard of some not-to-be-missed branches and twigs? Do tell.
There are about a million and one suggestions to make a small space feel larger, but when it comes to cozying up a large room with soaring ceilings and square footage to spare, there's nary a tip or trick in sight. So without further ado we'd like to take you on a fun house tour through our good friend Justine's amazing abode. Her house serves as the perfect example of what to keep in mind to evoke that cozy and über inviting feeling that doesn't always go hand in hand with a super-sized space.
Rule #1: Create different zones by using a variety of furniture arrangements and other decorating elements to define each space. For example, Justine and her husband John's kitchen has separate areas for cooking, eating in, and living that are defined using light fixtures, rugs, and furniture placement to create three smaller rooms within one large one that screams "come on in and stay a while."
Rule #2: Incorporate deep wall colors that you couldn't otherwise get away with in a small, light-starved space. The bold use of navy in their man cave (both on the pool table and on the back wall of their screening room) keeps things from seeming too open and undefined, and adds a stunning punch of color that a smaller room couldn't handle.
Rule #3: Choose rich tones of wood over white or pine furniture (or any pieces with reflective mirrors and glass tops) which can expand the look of a room instead of cozying things up. These solid furnishings ground the coffered ceiling and keep the expansive space from looking too vacant while the paneled wainscoting seems to envelop you as you walk into the room.
Rule #4: Bring in eathtones and natural stone when you can, like they did in this vast bathroom (which features an amazing multi-jet spa shower as well). Sure, you usually can't go wrong with gleaming white subway tile, but in this space it could look stark. The use of a rich granite countertop and a complementary natural stone tile around the jacuzzi tub (and that amazing aforementioned shower) keeps the room feeling spa-like and serene without seeming sterile.
Rule #5: Be sure to inject a little personality in a large house like Justine and John's to keep it from feeling like a nondescript "builder" home. They painted the coffered ceiling in their master bedroom a pale blue color which really adds some signature style to the room while bringing the ceiling down a bit to keep things cozy. Justine also introduced a super fun green floral chair in the living room (see above), which is just the personal touch that a gorgeous home like this needs to feel, well, like home.
Now it's your turn. Do you guys have any more big room tips to share? We're sure we missed a bunch so feel free to chime in with some sage advice for all of our readers lucky enough to have room to spare. And a special thanks to Justine and John for the Young House Love Open House!
Ok, another burning question for you guys: what are your thoughts about having a tv in the bedroom? This is a surprisingly polarizing topic for many people, and we'd love to know whatcha think. This breathtaking master suite by Candace Olson has a big flat screen above the fireplace. Thoughts on this seemingly popular decorating trend? Do tell…