Archive for June, 2008
Sounds like the start to a good joke, eh? It's not (but I'm open to punchline suggestions). It's actually the concept behind the Washington Design Center's Design House, where nine of DC's top interior designers divide and conquer to turn nine blank spaces into nine trend-setting design concept rooms. And this past weekend we stopped by in search of some inspiring, well, inspiration.
This season's theme was "What Hue Inspires You?" So each room – with names like Silver Lining, Something Blue and Paprika Passion – showcased how to bring color into your home while steering clear of tacky and heading straight for elegant.
We'll start with the Paprika Passion foyer, which features a seating area anchored by an oversized light fixture. We learned there's a trend toward using chairs instead of couches because as our rooms become more mutli-use, chairs can be more easily rearranged – especially when they're on casters – to face each other for conversation or towards a TV for movie watching.
But not all the seating we saw was designed for function. For instance, this stuffed-panda-bear seat in the quirky Black Splash living room is probably meant more for conversation than it is for comfort. A reminder that it's sometimes okay if the only thing a piece adds to a room is a good story (although this isn't a story we'd necessarily want to tell).
Next we meandered into the Silver Lining bedroom and lounge, which stole Sherry's heart with a metallic shine on just about every surface in the room (iridescent ceramic floor, metallic paint stenciled walls, mirrored four-poster bed, etc). Sounds crazy, but it was actually – brace yourself – very relaxing. Who knew shine could soothe?
But it was the White Wash spa room (i.e. bathroom) that was truly the epitome of soothing. Maybe it was the wall-to-wall sisal carpet, the giant marble bathtub or just the fact that we are sorely lacking in the master bath department but we couldn't take our eyes off of this room. It made us dream of one day creating a bath, I mean, spa room of our very own.
Next was the Something Blue sitting room, a room that took its name literally and included only one blue something (a painting over the couch). An interesting note is that the designer apparently loved the existing floor and wall color so much that he practiced the often overlooked skill of restraint and kept them exactly as he found 'em when he started designing the space. Bravo.
The last room on our tour was the Gold Rush ladies boudoir. Once I got over the discomfort of being a man in a "boudoir" I totally appreciated the subtle art deco touches (like the diagonals in the screen and sharp curves of the chaise), not to mention the ability to work with the smallest space in the house.
But perhaps the most inspiring lesson learned at the Design House was the generous use of texture. From a capiz-pattern wallpaper and a hand-stamped brocade paint treatment to a unique twist on traditional hardwood floors, we're now on the lookout for ways to bring more unexpected texture into our house. Does painted wood paneling count?
If you wanna see these rooms for yourself, the DC Design House tour is free and runs through this Saturday, June 28th (you can visit their website for details, directions and all that jazz). And the Fall Design House opens on September 26th and features completely different designers (working with a different theme) so stay tuned for more inspiration later this year.
&nbsp&nbsp&nbsp
When Meghan Carter came to interview us, we tried to pull out all the stops to make our house look its absolute best. We were sure to have a tasty assortment of apples in our clam-shell-turned-fruit-bowl in the kitchen and fresh towels in each of the bathrooms. Heck, we even Fabrezed a bit for good measure. But we opted against bringing in bushels of fresh flowers after deciding that lush leafy greenery looks just as fresh with our simple neutral palette (and conveniently grows in abundance just steps away in our backyard.
So we were sure to snip some fresh ferns for a few bud vases in our bathrooms: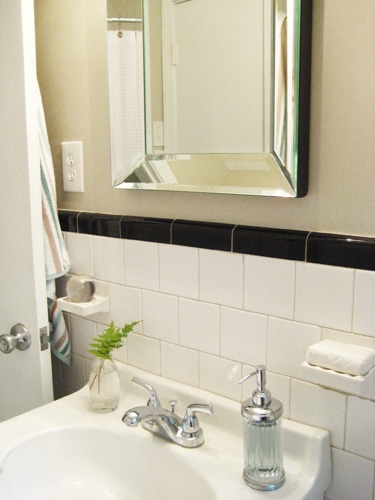 And to bring in some heavier artillery (in the form of some big leafy branches) for our oversized glass bottles in the living room.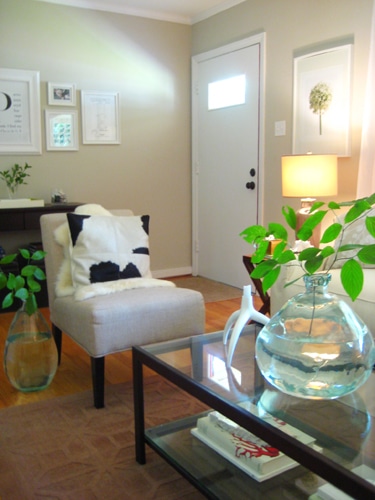 And just look how good those leafy greens look with the red front door… gotta love complementary colors.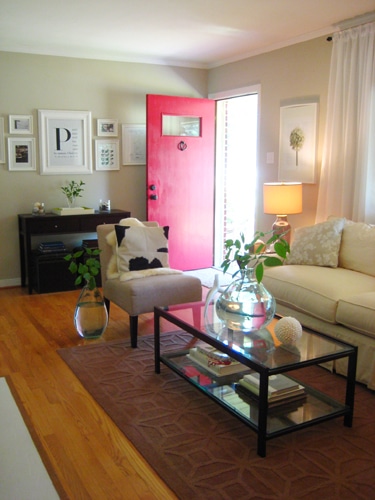 Do you guys have any rituals to get your house ready for special guests? Or any cheap decorating tricks like robbing your yard of some not-to-be-missed branches and twigs? Do tell.
&nbsp&nbsp&nbsp