After countless readers asked what was hanging to the left of our living room fireplace, we thought our cheap teardrop vases from CB2 warranted a post of their very own. With 15 framed works of art in the expansive living and dining room (yup, I counted) the last thing we wanted to bring in were a few more hard edged rectangles. So for less than $12 (actually they were a gift so they were F-R-E-E), we added instant interest. Some wild grass "borrowed" from a Target parking lot completed the look (and has surprisingly held up for the last 12+ months). Observe: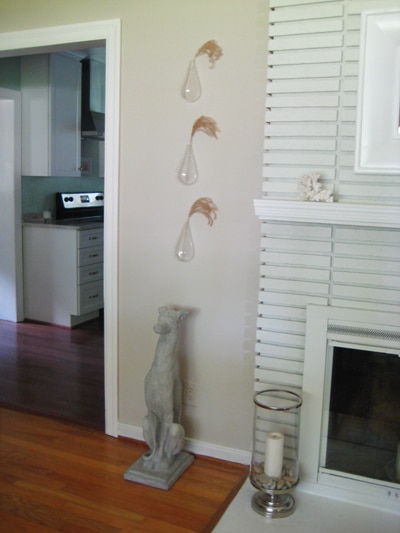 These vases are versatile. If you have a wall at the end of a hallway, a landing at the base of a staircase, a thin slice of space that needs a little spice, or any place that could use some clean curves, these vases are da bomb. So get your order on and send us the after pics, yo. Happy shopping…
&nbsp
&nbsp&nbsp&nbsp

&nbsp

&nbsp
If you enjoyed this post, please leave a comment or subscribe to the feed and get future articles delivered to your feed reader.
9 Comments
This comment section is currently closed.