Archive for May, 2008
The front of our house continues to transform (goodbye scalloped porch, hello red door), and this weekend we worked up the energy to tackle the jacked up front walk.
Why? Because this is the jagged and trip-inducing path that we inherited with the house. Talk about an ankle sprain waiting to happen: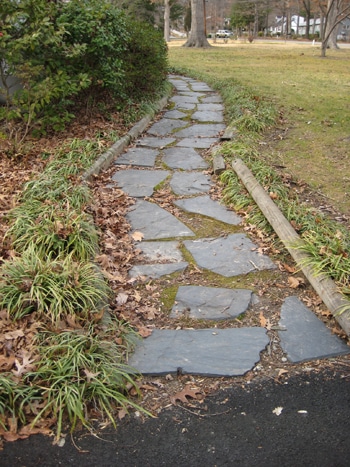 We like a rustic cottage-y path, but ours was narrow, wobbly and not quite the inviting introduction to our front door that we envisioned. Plus, the previous owner had a thing for ornamental grass and wooden borders that were seriously cramping our style.
So this weekend we dug it up to make way for a bigger and better version. Here's what it looked like after several hours of lugging beams, relocating plants and moving slate.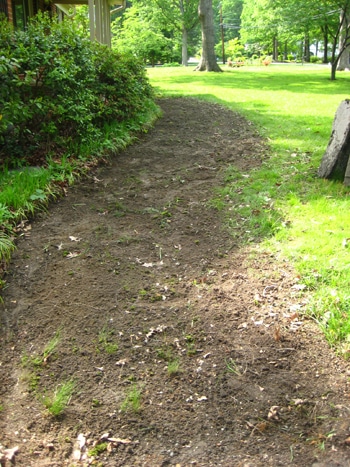 Lucky for us, between the previous path and the rubble from last summer's back patio makeover (see bottom of the Gallery page), we had a huge supply of slate tiles just waiting to be put to work. All we had to do was piece them together in a tighter, wider pattern and we'd have a new, more grand and wobble-free walkway, right?
Wrong. This turned out to be a weekend-long puzzle involving some very heavy pieces. 48 twenty pound pieces to be exact. Here's our progress after 2 hours of lifting n' shifting at the end of Day 1. And by "end" I mean the point of muscle exhaustion.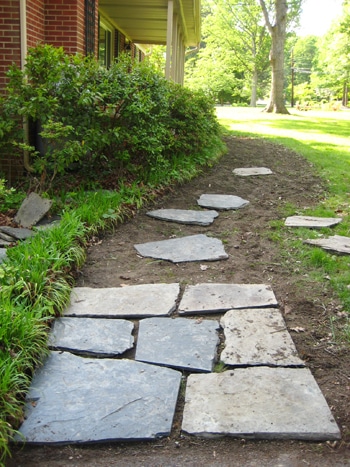 Pretty sad, huh? So we started Day 2 with some ibuprofen and a divide and conquer strategy. Sherry started fitting pieces together by the porch and I picked up where we left off near the driveway. Three long hours later we had almost met in the middle.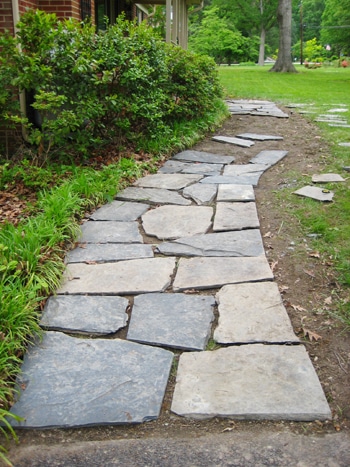 And finally, after about 4 hours (and a few dozen hand cramps) our 900 pound puzzle was complete.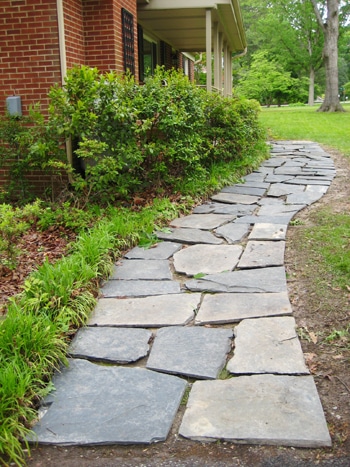 Much improved, no? The amazing part was that we were able to create the clean-edged curve on the right side of the path without cutting the slate. We just happened to have enough slabs with straight and curved edges to make it work. And the subtle variation in color among the slabs was also a happy accident that makes the whole path look a little more like bluestone (or some other more expensive material) due to the fact that every piece isn't a uniform dark charcoal color. Not bad for a $0 project.
Unfortunately, we can't check this project off our list quite yet. We still need to dig in all the slate tiles so that they're completely level. And once they've settled, we'll plant grass seed in the cracks for a charming cottage look that will blend seamlessly into our front yard… just as soon as we regain full function of our limbs again.
&nbsp&nbsp&nbsp
As you last saw a few weeks ago, we removed our shoddy screen door and painted the door behind it a brilliant lipstick red. Then we ripped down the scalloped header with vigor and shared the victorious results. But Project Pimp My Porch is far from complete. We still need to relay the front walkway, because it looks bad (really bad). But while we work up the energy to tear up the jagged slate and create a wider and more level pathway, I took it upon myself to get going on some much needed front landscaping.
See, after azaleas look spectacular for three long weeks in April, they're immediately supposed to be cut back when the flowers begin to fade. So I got to work trimming all of the bushes the obligatory three inches or so. Observe: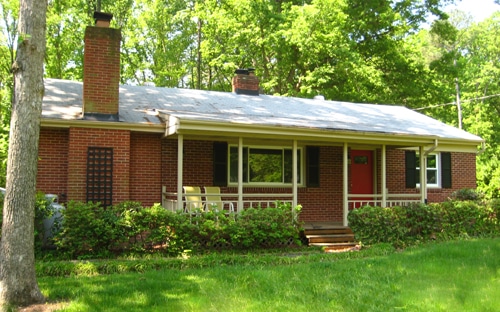 And then I did something that John and I have been talking about for two whole years. I cut the three bushes on either side of the front steps waaaay back. So far back that I was left with six giant piles of leaves when the smoke cleared. But it had to be done. As gorgeous as the jumbo azalea bushes look each spring when they show their stuff for 20 straight days, the rest of the year they're just giant green bushes that obscure the porch railing, making our house appear even more squat and encircling the perimeter like a solid wall of unvaried color and texture. And viola… we have our porch back.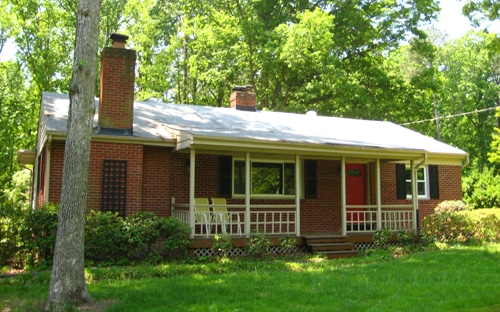 It's open and inviting and the house looks taller and more, dare I say it, updated. The old wall of unbroken bushes is no more. And the azaleas will still fill in and flower, but we'll never let them get so overgrown that our cute porch railing is hidden like gorgeous hardwood floors under a grody old carpet. And now we even have space to pop some annuals into the mix for a splash of new color and texture to boot. So as soon as my forearms stop burning and my biceps stop twitching, I just might talk John into helping me tackle that new walkway. Stay tuned…
&nbsp&nbsp&nbsp