Archive for May, 2008
When Laura contacted us for some living room first aid, we wasted no time doling out some decorating CPR. Here's her letter:
I've been reading your blog for a month or so and love what you've done with your house! I am hoping you can help me with my living room. We recently painted (the color is Restoration Hardware "latte" which we had color-matched at Sherwin Williams) and got new window treatments (from Pottery Barn Outlet- love them). As much as I would like to replace the burgundy sofa and chair with something light and slip covered, we can't afford to right now. So my dilemma is trying to work with them even though they're not the look I'm going for. We are pulling up the yucky carpet to install hardwood but have not chosen what kind. We also need an entertainment center with lots of storage to house our TV . Your ideas would be greatly appreciated. – Laura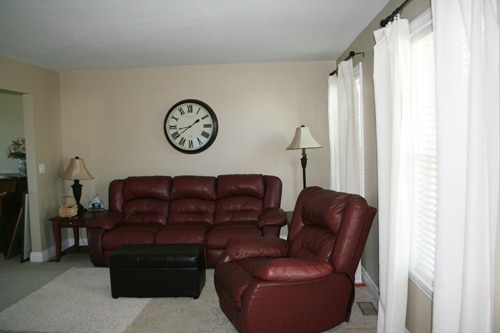 Well Laura's space came with just about the perfect base. Latte colored walls and breezy white curtain panels are some of our all time favorites, so the challenge was to find items that work with the current sofa and chair but will also compliment a new lighter slipcovered version down the line.
Here's the mood board breakdown.

Read the rest of this entry »
&nbsp&nbsp&nbsp
Dear house,
We remember moving in exactly two years ago like it was yesterday. And boy were we head over heels for you from the start. God knows why when we look back at the first exterior picture that we took…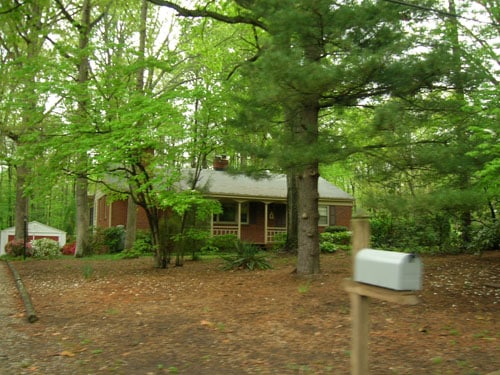 But you had us at hello. Even when you greeted us with that crazy shelf divider in the living room complete with a stained glass square and a faux stone linoleum landing.
And who wouldn't have been charmed by that dated dining room wallpaper and the ancient kitchen cabinetry that shouted "Paul Bunyan wuz here"?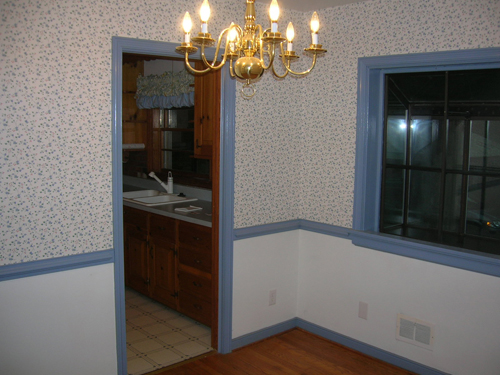 Sure the master bedroom was kinda nondescript, but we were positively over the moon about our first pale blue-gray paint color choice (the only one that we didn't change at least once in the next 24 months).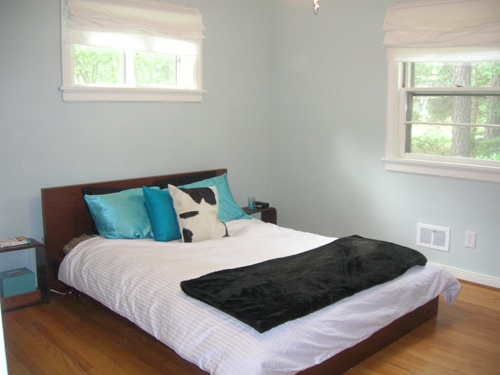 And that den was the scary smoking lodge we always knew we never wanted. Yet we couldn't wait to sign those 890 mortgage papers to make you ours. Maybe because we had grand plans to paint the paneling and move in some pretty sad furniture until we could work up the energy to paint the brick and the beams (and work up the funds to replace those terrible dorm furnishings).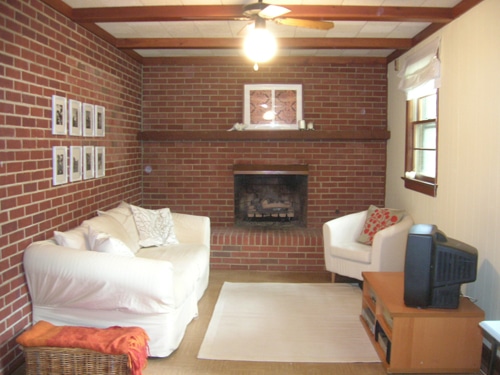 But the room that sealed the deal was your lovely and fabulous sunroom. Even though the carpet smelled like pee, we plugged our noses and plugged away until you were looking a bit more presentable.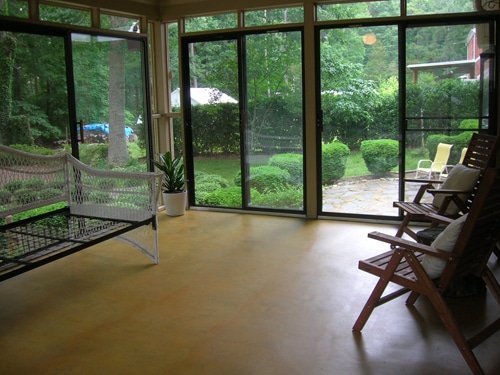 And even though you boasted five dilapidated and dusty ceiling fans, we looked the other way (and feasted out eyes upon your two fireplaces). And although you had not one single electrical outlet in either bathroom, we didn't even notice until we moved in and tried to plug in our hairdryer. We were too busy oggling the front porch- one of the only ones in the neighborhood. And yes dear house, regardless of the fact that everything about you made us weak in the knees (in a good way and a bad way), it was the vintage cow weather vane that convinced us that you were "the one."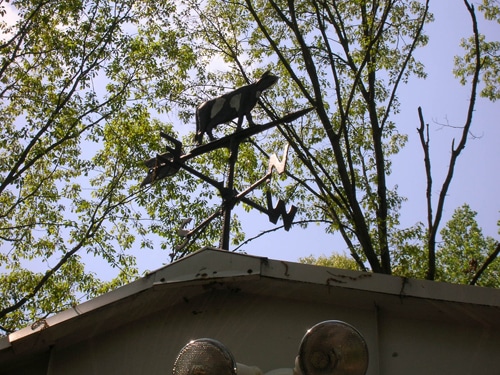 So thanks for the laughs, the memories, the almost-hernias, the snafus, the life lessons and the transformations over the past 731 days. Here's to many many many more.
&nbsp&nbsp&nbsp