Archive for April, 2008
In this case, the fifth time was the charm. As in 5 coats later our front door looked fabulous, darling. In fact, the color is Valspar's Fabulous Red and let's just say the name isn't an over-promise. Although if I were gonna do it all over again, I definitely would have primed over the existing black paint first. Check out my pathetic first coat: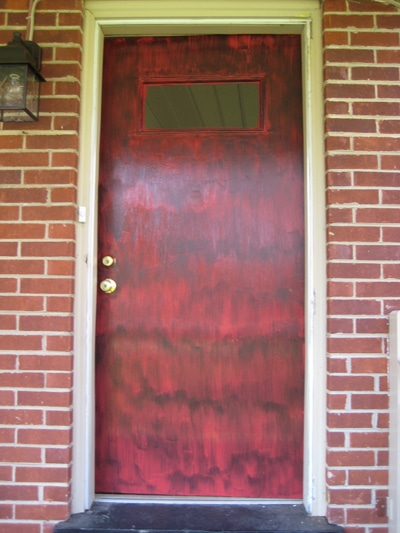 But five thorough coats did the trick. Thank goodness I had some nice scenery to admire while I painted and painted (and painted). Check out our gorge flowering cherry tree in the front yard.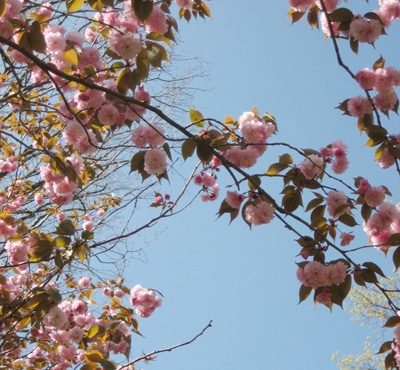 But back to the door. People may be wondering how we knew Fabulous Red was "the one". Well, as soon as we held up the swatch next to our brick it was obvious. A bunch of our other red swatches looked too close in tone and intensity to the reddy-brown brick tone, and the last thing we wanted the front door to do was disappear into a sea of brick. So we went with the brightest, most dramatic lipstick red of the bunch. None other than Fabulous Red (in semi-gloss exterior paint for shine and durability). So for everyone who writes us asking if a brick house can sport a red door, the answer is "but of course… as long as it's brighter and redder than your brick". Check out our finished product: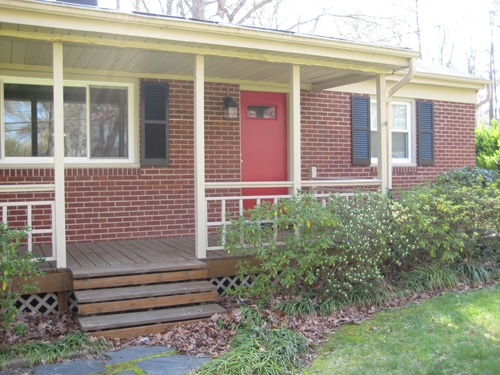 Oh and look how purty a red door looks at dusk: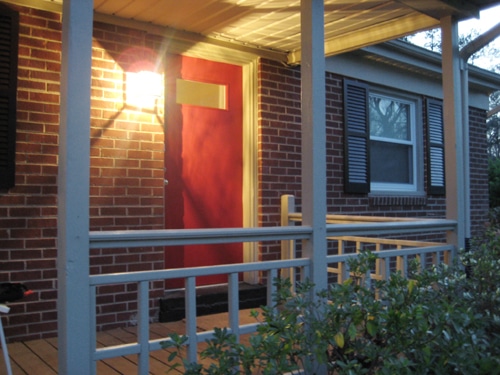 And we thought it might be helpful to share our exterior palate as a whole with you guys so here it is. To complement our all-brick facade we added tan trim (Valspar's Lyndhurst Stone), some black paint on the shutters and door stoop (Glidden's Dark Secret) and punched things up with a delish new red door (Valspar's Fabulous Red):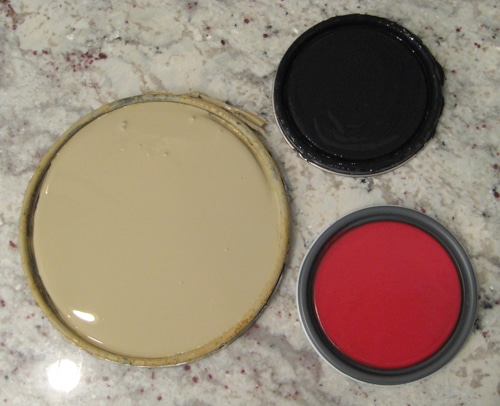 Crisp, classic, and clean. Now if only our front walkway and landscaping felt the same way. Stick around to see a total front yard makeover as we attempt to capture the curb appeal that our little brick ranch deserves.
&nbsp&nbsp&nbsp
Since you see the front of our house all the time in the blog header, you may be surprised to learn that it's due for a major overhaul. Sure it looks sweet from afar (especially when all those azaleas are in bloom) but the sad truth is that up close it's definitely less than picture perfect. The old slate path is jagged and chipped. The country looking scalloped header above the porch is totally not our style. And the screen door is old and rotten. We tried to save it for a little while by painting it a cheerful yellow, but sadly it had still seen better days.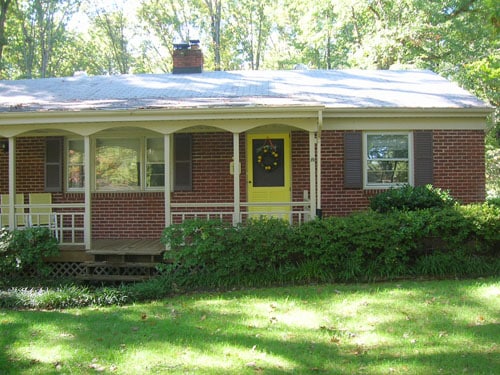 So yesterday I said "smell ya later" to the 'ol screen door and exposed the much better looking wooden door behind it (which I painted a crisp black along with the shutters). Such an improvement. Although we're considering repainting it a sophisticated lipstick red in the near future. But in the meantime, I couldn't wait one more minute to attack that terrible scalloped header.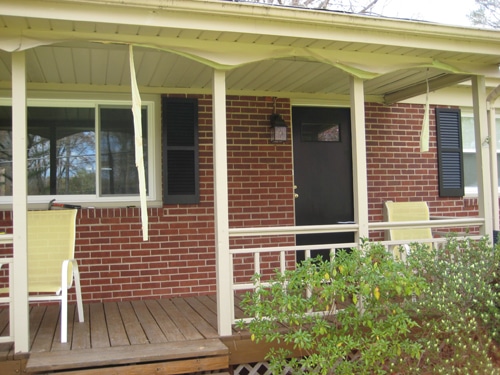 And attack it I did. It was far from easy (in fact it was an 11 step, 6 hour process that had me crying, bleeding, and crying more) but I waved the victory flag after a looooong day of pulling, peeling, hammering and muttering obscenities. Here's what the ground looked like when I finished (told you we need a new walkway):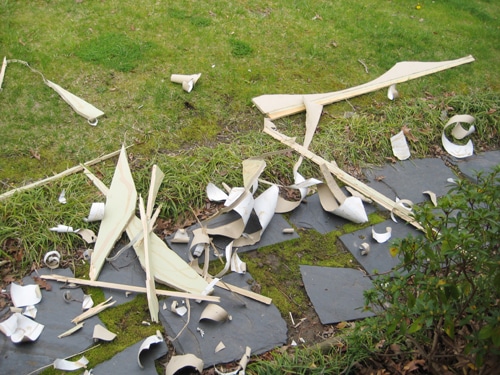 And here's what the porch looks like sans scallops.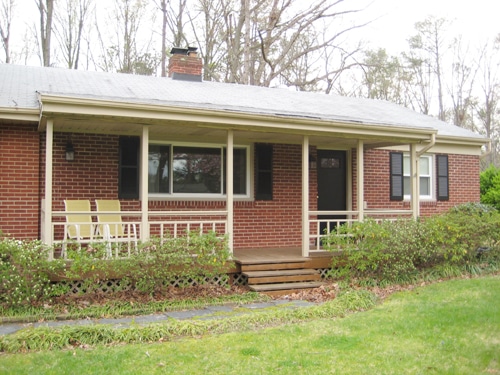 Of course all the work paid off- we think it's so much cleaner and it definitely looks more like a 50's ranch and less like an 80's country lodge. And it looks about a million times better from the inside of the house, too. We'll take ya waaaay back to a pic of the living room right after we bought the house almost two years ago. See the ugly scalloped porch out the window? At least the busted curtains, weird lamp, and baaaad cube divider near the door detracted attention from the icky scallop view.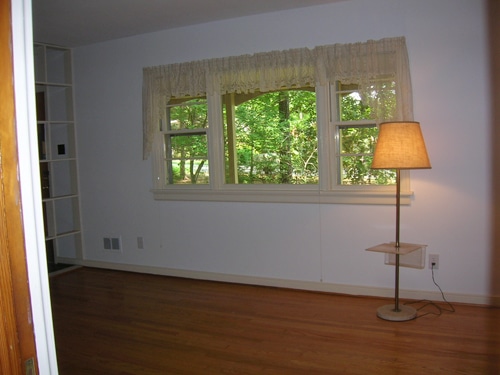 But now that we've completely renovated the living room (removed the cube divider, put in a new window, added crown molding, and painted like crazy) the perpetual view of the sun streaming in through the scallops annoyed us even more.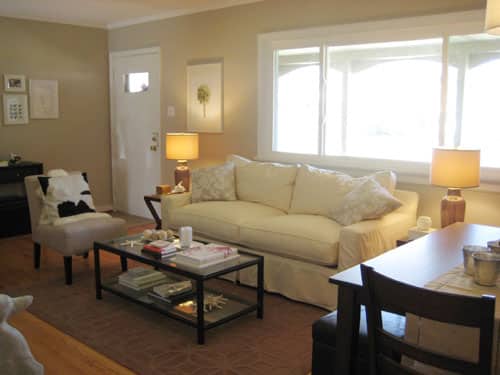 It's so much sleeker without those arches conflicting with the rectangular window, right? Burger certainly enjoys the new view.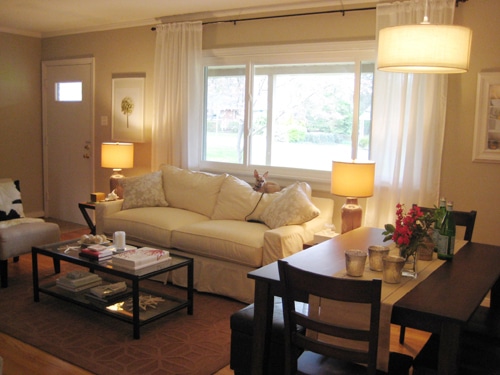 Oh and we hung some airy white curtains high above the window which really make the room feel taller. Now all we need are some natural matchstick blinds to hang right below the rod in order to cheat the window and make seem like it goes all the way up to the rod.
So hopefully you've enjoyed the screen and scallop removal. Stay tuned for some pics of the soon-to-be red front door, and a complete path overhaul along with some new landscaping ideas. Curb appeal's the name of the game, and we'll keep you posted every step of the way.
&nbsp&nbsp&nbsp