Archive for April, 2008
…what color would you paint it?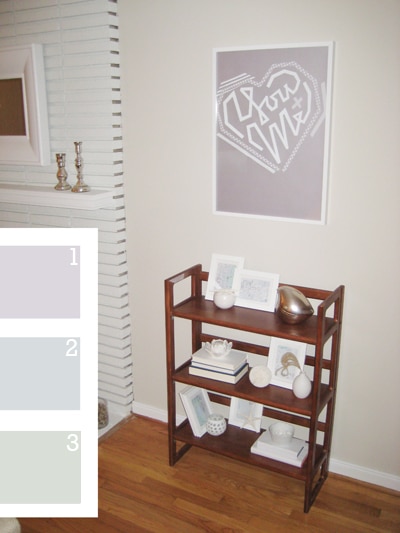 We adopted this snore of a bookshelf in Manhattan about three years ago and it's one of about ten pieces that made the move to Richmond with us in a minivan. We've always treated it like an "until we get something better" piece because there's nothing terribly special about it, but somehow it has lasted this long, so we figure it's about time we make it work.
We're going to give it the ol' Young House Love paint job (the wood is a little too red for our house anyways). And seeing a pretty painted green bed on google gave us the confidence to try something other than white… but we need your help picking the new color (and truly feeling confident about it).
Our top three color contenders (shown on the left side of the pic above) are:
1. A grayish-purple reminiscent of the print above the bookcase.
2. A muted blue inspired by our bedroom and kitchen.
3. A dusty green to complement the sometimes purple undertones in the tan wall color.
Or do we quit messing around and go with what we know: white.
Do you see why we need you? We're practically paralyzed with indecision. We don't want to go too bright since the rest of our living room is pretty neutral: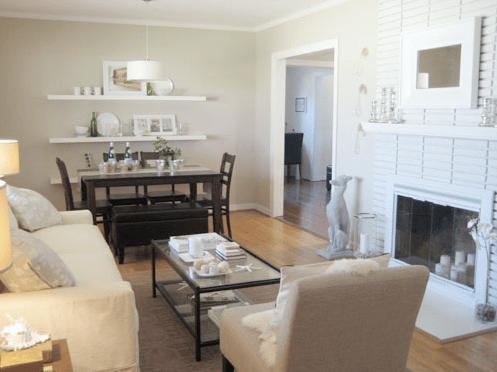 So cast your vote for one of the colors above or feel free to throw some other options into the mix. Thanks in advance for the help and, of course, we'll post the after pic as soon as we get 'er done.
Lately I've been noticing glass front cabinets with a twist. The twist is that the backs of the cabinets have a little somethin' extra. Sometimes they're wallpapered. Sometimes they're beadboard. Sometimes they're upholstered. And sometimes they're painted. So after living with our very own glass front cabinet for a little while, we decided to join the club.
In about two hours I painted the back of our corner cabinet the same beachy blue-gray color that's on the walls. I left the shelves white and just painted the back wall to keep the contrast high and make the white plates and dishes pop against the new moody backdrop. Can I just say that it was so worth the effort? Subtle and sweet. Check it out: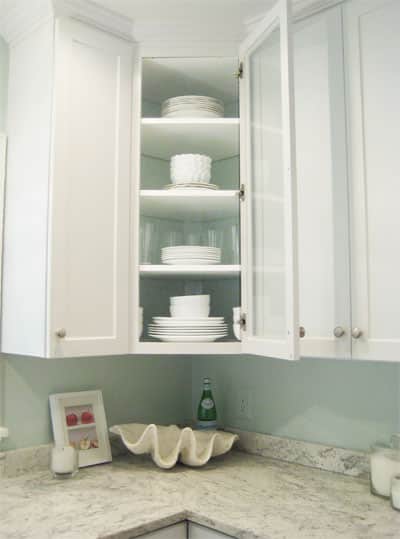 As March Madness follows us into April, we thought we'd offer up a way for all you non-basketball fans (like us) to get in on all this bracket business. It's a little book called The Englightened Bracketologist: The Final Four of Everything. It's fun. It's yellow. And we find it's a great little nugget of pop culture entertainment to have around the house (ours lives in the guest bedroom).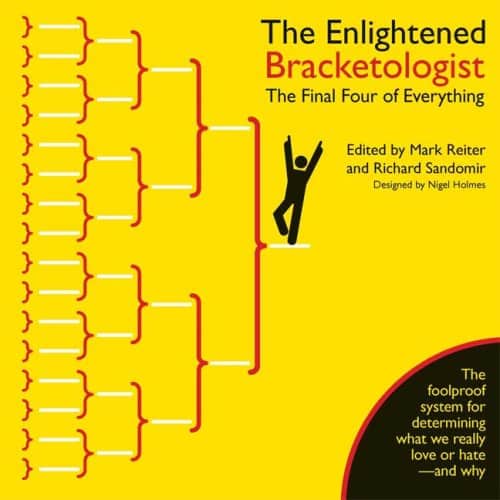 Here's the gist: the editors have gathered 101 experts on 101 different topics to determine the winners in 101 different bracketed categories. From the epic battle between apples and peaches for the fruit championship, to (Sherry's personal favorite) the ranking of the "Most Jersey" town in New Jersey, there are plenty of enlightening head-to-head battles to enjoy.
Here are a few more of our favorite final showdowns:
Hairstyles – The Hillary vs. Cornrows
Inventions – Paper vs. Sliced Bread
Game Show Catchphrases – "Survey said…" vs. "Come on down!"
Punctuation – The Space vs. The Semi-colon
Bald Guys – Homer Simpson vs. Gandhi
Emoticons – :-D vs. :-)
As you can see, The Englightend Bracketologist takes the bracket concept far beyond the NCAA and tackles topics that, personally, are far more interesting- although I have no clue why my favorite candy bar (PayDay) didn't even make it past the first round.
You'll just have to grab a copy for yourself to find out who claimed victory in all of these challenges. It's definitely worth the $11 (in hardcover, no less) because whether it's on your nightstand or your coffee table, it's sure to spark an entertaining and colorful debate.
And I think you'll take issue with the candy bar results too. Heck, I'd even bet on it…