Archive for April, 2008
I know we were supposed to be devoting every blissful second to relaxing, but we caught ourselves taking beach decor inspired mental notes throughout our entire trip. Talk about inspiration overload.
This house literally took our breath away. Situated right on the water and within walking distance from a number of yummy seafood joints, we think this traditional beach house is perfection. The all white exterior and tin roof keep it simple and allow the linear details (those railings! those windows! that awning!) to shine.
This adorable beach bungalow's exterior color palate made a major impression. How great are the pops of green with the tan and white? Thanks to two dominant house colors and a third accent color, no detail is lost (like those fabulous green brackets and that white square runner above the porch). And those blue-green planters on the railing along with the hanging fern baskets totally finish off the look. Swoon.
Perhaps the most unexpected discovery was this amazing modern beach house with balconies and windows a plenty. The calm blue color blended with the sky and the gulf that it overlooked, and the white trim accented all those windows, balconies and that fun exterior spiral staircase.
The excitement continued when we ducked into some nearby shops. The first was a store called Being in St Petersburg. And it didn't disappoint. Choc fulla gorgeous (and wallet busting) furniture and accessories, every inch of the place was an inspiration. And although the price tags were laughably cost prohibitive, we love stealing ideas from expensive shops for free. This little snapshot begs the question, why not go a little crazy with pattern and color? The bright pillow + those patterned canisters + red coral = jaw droppingly unexpected eclectic excellence.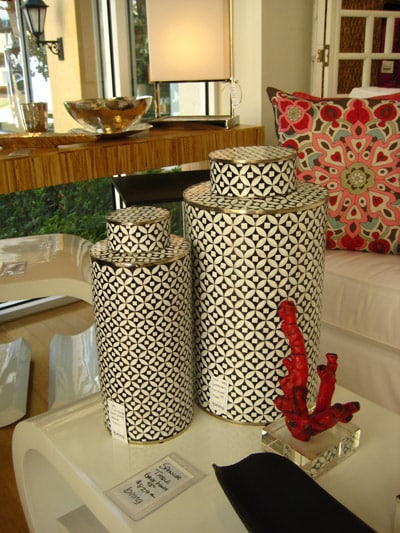 Then we headed over to Coastal Cabana in Dunedin (cause I love me some shells). When you're living in a beach town, there's no such thing as too many, and although I think an abundance of shells in a non-beach setting can be a little strange, I was so inspired by the shell encrusted objects that I immediately had dreams of DIY. Glue gun + shells + (insert object here) = a high end look on the cheap. I think a bunch of tiny white shells covering a pair of candle sticks, a round mirror or a few small frames would be beachy keen.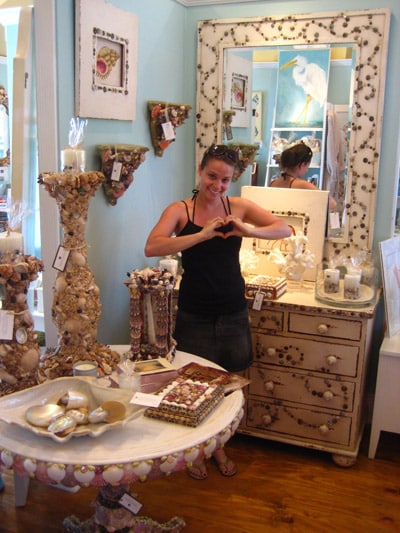 So as you can see, there was lots to look at everywhere we went. And it left us wondering what kind of beach house we'd prefer… the stately traditional? the adorable bungalow? the modern masterpiece? So why not take a poll. Which one do you guys prefer?
&nbsp&nbsp&nbsp
As we revealed on Saturday, we spent the last week soaking up the sun on a tiny island off the west coast of Florida called Madeira Beach. We've returned to Virginia with slightly darker skin, a boatload of shells and tons of fun stories to share… starting with the tour of the the totally sweet cottage we stayed in all week long.
From the start we knew we wanted a unique, tropical experience, so we avoided the ubiquitous beachfront hotel and sought out something more private (and dog friendly). That's how we stumbled upon the Island Paradise Cottages of Madiera Beach – the affordable and stylish answer to our lodging needs just steps from the beach.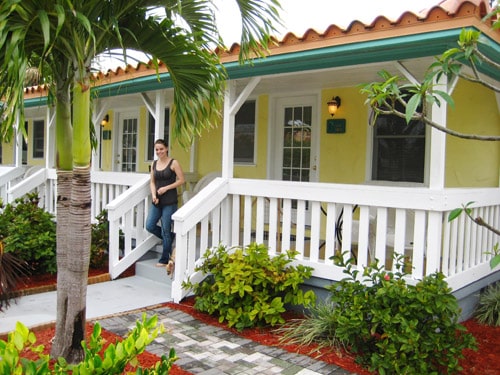 Island Paradise offers eight charming units of different sizes (ours was a one-bedroom called the Gulf Mist) each with its own private entrance and sun porch. The sunny yellow cottages open up to well-manicured communal areas such as a festive tiki-hut and a pool & hot tub that were landscaped to maximize that whole you're-in-paradise feeling.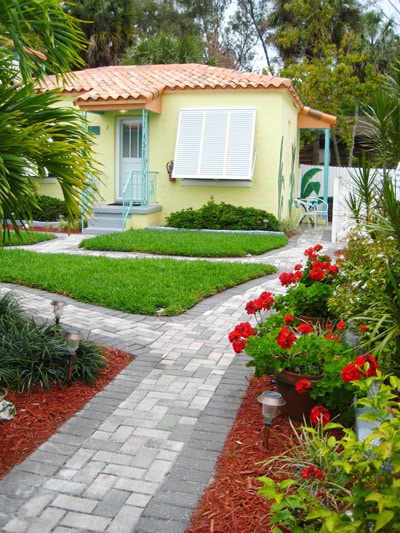 Inside the Gulf Mist, we had a spacious living room, a cute little corner kitchen, a restful bedroom, a super cute (and super clean) bathroom and even a huge walk-in closet (which we used to house both of our bikes). Definitely the makings of a comfortable home-away-from-home. The interior style was more beach-functional than beach-chic, but that didn't stop us from relaxing 24/7. And we learned to love how easily sand could be brushed off those tropical couches.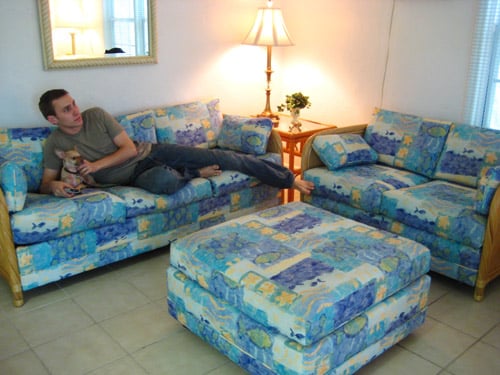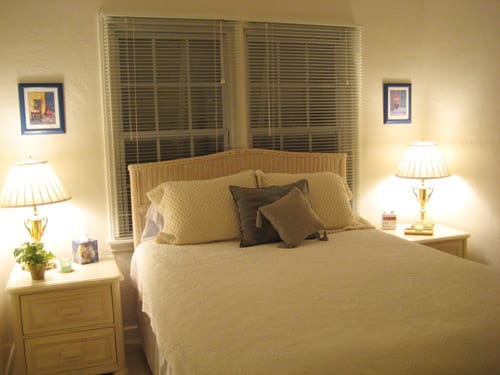 We also found some familiar looking tile in the bathroom- although this basketweave is actually supposed to look yellow. We learned that the tile was original and the cottages were built in the 50's- just like our house. Now wonder we felt so at home.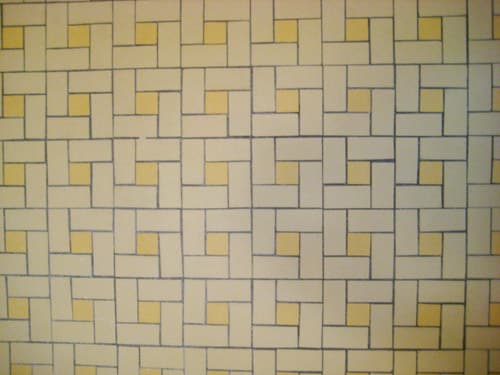 For more pics of our Island Paradise cottage and to see our other island-hopping adventures, be sure to check out our flickr album. And if you ever decide to make a trip there yourself, be sure to pass along a "hello" to our gracious hosts June and Bill.
&nbsp&nbsp&nbsp