Archive for April, 2008
We wanted to elaborate on our response to a question Alyssa asked on Wednesday about the framed map in the photo below: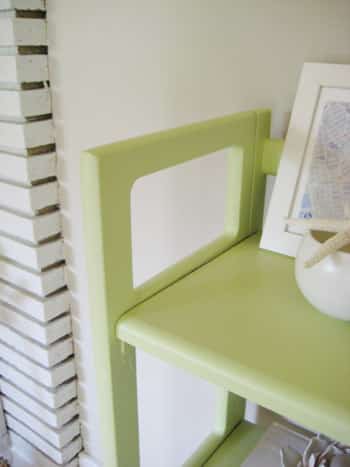 What you see in the white frame on that shelf is a card included in the City Walks: New York boxed set. For those those not familiar with the City Walks series, they're small boxes that include 50 "adventures on foot" through different cities across the globe. That means you get 50 unique cards outlining different walking tours, complete with a map, directions and fun facts about the things you'll see along the way.
I got the New York edition as a gift when I moved there but had no idea what to do with them once we escaped to Richmond. But when we were looking for cheap art for our first apartment we realized they were the a fun, quirky way to pay homage to our former hometown. Each 4×6-ish card fit perfectly in some inexpensive white frames from IKEA, so we created this collage in our old dining room.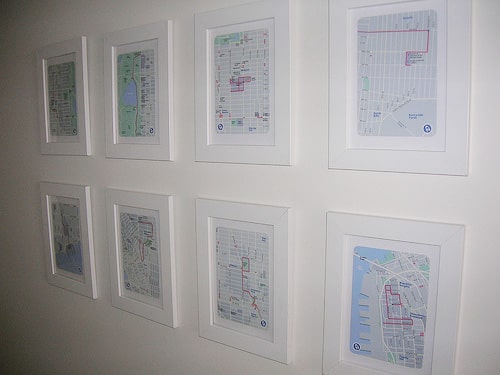 We chose 8 cards that highlighted areas of NYC that were special to us – places we lived, places we worked, places we loved – so they've been with us ever since we first framed them two years ago (although they've been displayed in about 50 different places since then).
City Walks has editions for Washington DC, Boston, San Francisco, Los Angeles, Chicago, Paris, London, Rome, Amsterdam, Barcelona and Vancouver. Plus, there are some versions for kids and even a couple "Village Walks" for quainter places like Tuscany, Provence and Ireland. Each set is available on Amazon for about $15, which breaks down to about 30 cents per card-turned-art. Note: If you City Walk folks are reading, we're more than happy to help with City Walks: Richmond.
And if you're interested in fresh, original Young House Love art, click here to peruse our shop.
&nbsp&nbsp&nbsp
We asked. You voted. We listened.
I'm talking about the ballot we put out a couple of weeks ago to elect a new color for our blah bookcase.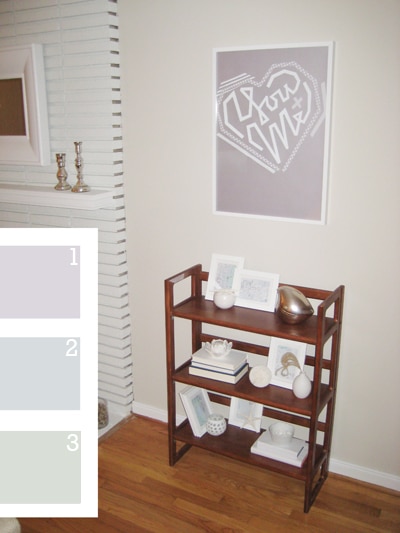 While there was support for all three subtle color options, as well as a few new hues thrown into the mix, we let majority rule. Here's the resulting GREEN bookcase: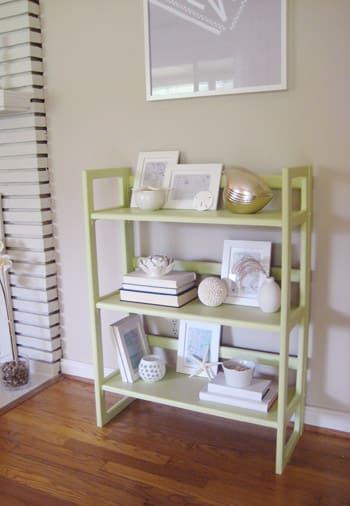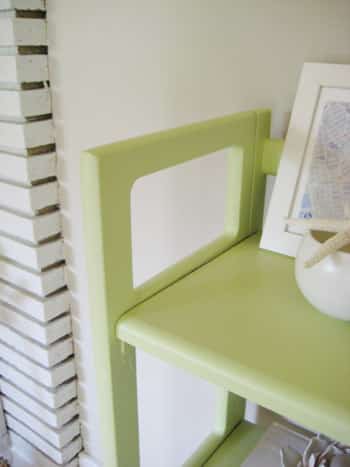 It's not as subtle and grey as the green we originally considered in option #3, but after falling for the kitchen that inspired us in Kristy's Design Dilemma (and growing some color cajones) we decided to go a little brighter and bolder. That's how we landed on Glidden's "Zen Mist." A purer green, with a hint of lime-y yellow. All it took was a coat of primer and two semi-gloss coats of our new favorite color and presto.
We love it. And we owe you all a big "thanks" for your suggestions as we stepped outside of our white-washed comfort zone. We think its a huge improvement over the reddish wood color that didn't match anything else in that room. And now it totally compliments all the green accents on the dining room wall (as many of you pointed out) while still allowing all the white objects on the shelves to pop.
But what do you guys think? Happy with the vote? Demand a recount? Do tell.
&nbsp&nbsp&nbsp