Archive for February, 2008
That's what we said when we first laid eyes on our house. Because it was more than just a little lacking in the curb appeal department. In fact, the front yard looked like this: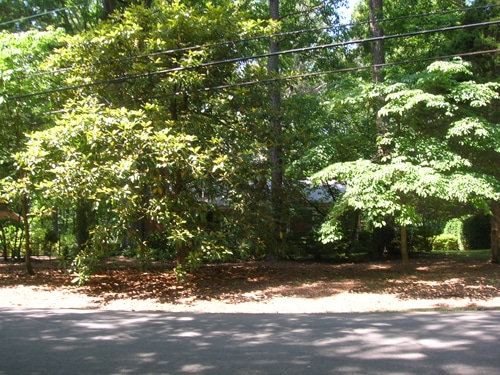 But we looked beyond the jungle and screamed "we'll take it!"
All of our afters wouldn't be half as dramatic if it weren't for the horrifying befores. Which is why we've added tons of photos to our gallery page. So check out all the ridiculously dated before shots along with the much improved afters (and lots of never before seen "in-progres" shots). We've come a long way baby.
Well, we've been wooed once again. This time by two deep chocolate colored items that practically jumped into our cart. Where would we be without Target? The first thing to catch our eye was this adorable little round end table.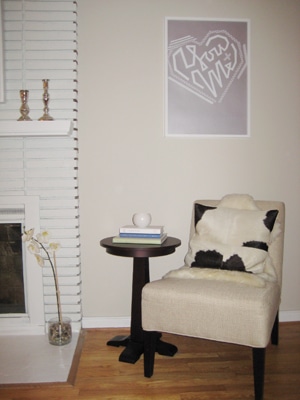 We'd been passive-aggressively looking for a side table to accompany the chair that lives under our semi-new You & Me poster in the living room. And of course Target came to our rescue. The deep mahogany color makes it look far more expensive than the $41 price tag, and the classic shape ensures that we'll never tire of this totally versatile table.
And of course we couldn't pass up this woven hamper for our newly spruced master bedroom.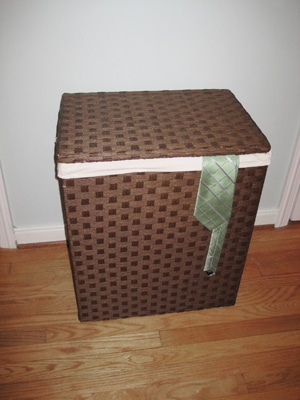 The $59 price tag didn't exactly scream "free" but the deep brown color matches our platform bed and dresser, and the off-white liner perfectly coordinates with the wardrobe curtains across the room. And the subtle woven texture far transcends the average hamper's swoon-factor. So who can blame us for splurging on an item that will dutifully store all of our dirty clothes for years to come- and look good while doing it?
Oh and doesn't it look happy when I feed it John's ties?
A while back we promised another post about wall art, so here it is. Being sentimental- and on a budget- we've had to get creative in the art department. So until we can afford that original Warhol piece we have our eye on (yeah right), we'll stick to providing interesting art alternatives.
For example, take this vintage map project that Sherry surprised me with this Christmas. She found this amazing map (from 1907!) on eBay for around ten dollars, picked up a white frame at Ikea, and then removed the glass and added some cork backing and pinned the map in place. Then she stuck more pins (actually called "map pins" from Office Depot) into all the places we've been together. It's fun interactive art. Plus it encourages us to get out there and see the country so we can stick more pins into the map asap.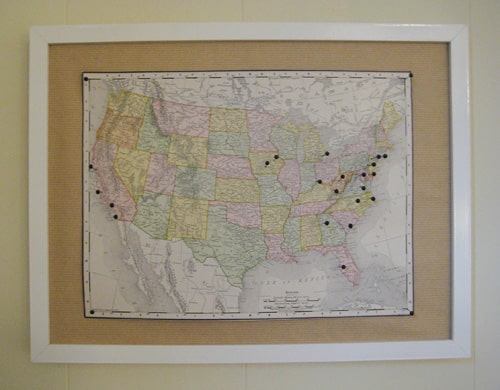 Here's another easy project guaranteed to peak people's interest (everyone who comes over gravitates towards this tiny frame). As another surprise, this time for our anniversary, Sherry hunted down copies of some keys (all it took was a few calls to old New York City roommates) and framed them with little handwritten labels underneath each one.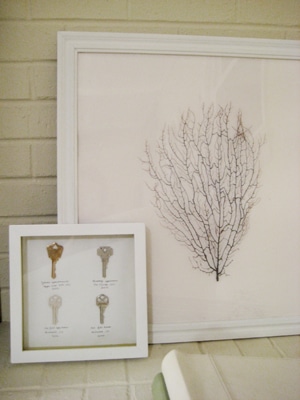 The key on the top left says "John's apartment, Upper West Side NYC, 2005″, the key on the top right says "Sherry's apartment, The Village NYC, 2005″, the key on the bottom left says "Our first apartment, Richmond Virginia, 2006″ and the key on the bottom right says "Our first house, Richmond Virginia, 2006." Also note the black sea fan leaning next to the little framed keys. Sherry ordered that from an online sea-life website and just threw it in a frame. Ain't she clever?
This is another "custom" framed piece by my crafty wife- this time it's a shadow box full of objects from our backyard wedding (click here for some wedding photos). It was a great way to remember the day and add another interesting and personalized art piece to our home. A fabric scrap from one of our table runners, a printed dessert napkin, a goofy Save The Date photo strip (we rented a photo-booth for the wedding), our invitation, our stamped place cards held down by river rocks, our favor bag (which contained a gladiolis bulb and had another photo strip clipped to the front), and even our thank you postcard (featuring a wedding photo) made it into the frame. I think she captured the casual, happy, summer day just perfectly in our little wedding time capsule.
We hope these projects reinforce that there's really no end to the things that you can frame. Please feel free to share your brilliant wall art ideas with us.