Remember the beeeeeautiful bouquet John got me to celebrate the culmination of a long hard kitchen remodel?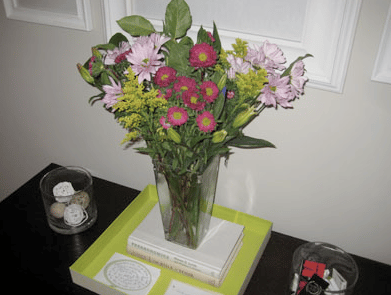 Well, there must have been something in the water, because three weeks later some of the flowers were still alive and kickin'. So I plucked out the dead buds and cut the stems a little shorter to create this tight little bouquet. And since I didn't have a small vase to put them in, I just used a drinking glass and wrapped some red ribbon around it for a little somethin' extra.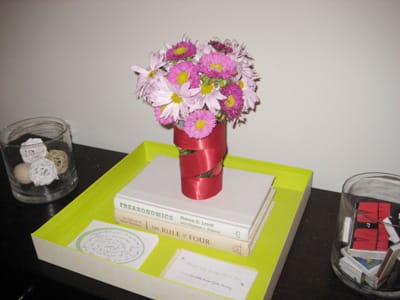 And as if that wasn't enough flower power for ya, on our two year anniversary of living in Richmond, John came home bearing more blooms. This time he was quick to explain that they were actually leftovers from a photoshoot, but it was still the thought that counted. (Note: we're both in advertising, I realize we never really get into our real jobs here, but there it is… cat's out of the bag). Anyway, so some of the flowers were gorgeous orchids, which basically arranged themselves in the vase from the previous flower delivery: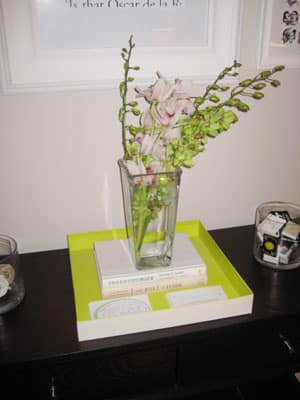 And there were also a few cheerful gerber daisies. But since I've aready mentioned that I have a serious vase shortage, I ended up displaying them in three random objects I had on hand: a blue glass, a green bottle, and a round blue vase. Lookie here: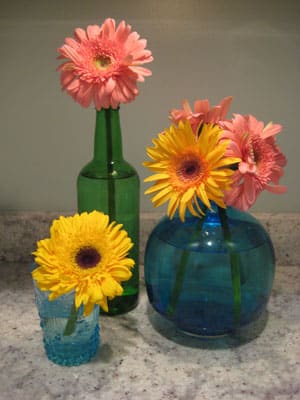 &nbsp
&nbsp&nbsp&nbsp

&nbsp

&nbsp
If you enjoyed this post, please leave a comment or subscribe to the feed and get future articles delivered to your feed reader.
4 Comments
This comment section is currently closed.