Archive for December, 2007
Here's a quick project for all you DIY peeps with blank space on your walls. It's as easy as pie, so in honor of that delicious after dinner delight, I've decided to write the steps recipe style. Mmmm…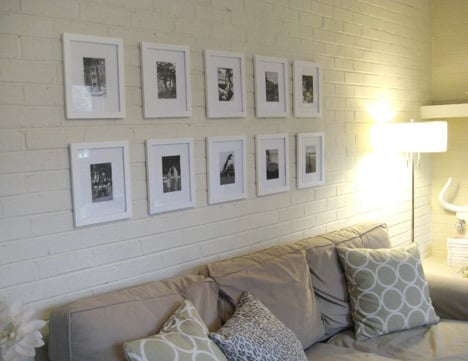 INGREDIENTS
An even number of identical frames (I used ten white 8×10 Target ones)
The same amount of black & white photos (we got regular 4×6 inch prints)
White paper to create a "mat" behind each framed photo
Plain ol' scotch tape
DIRECTIONS
1. Take your favorite photos and make them black and white. Feel free to up the contrast as well so they really pop.
2. Burn them to a disk and get them printed at any photo processing center (we like CVS for its close proximity and for the white borders you can add to each pic for a nice finishing touch).
3. Use a loop of tape to secure them in the center of the white paper (cut to fit each frame).
4. Hang 'em in a grid and help yourself to a big ol' heaping slice of pie. You deserve it.
&nbsp&nbsp&nbsp
After 15 painfully slow days of waiting impatiently, our kitchen remodel picked back up again this Monday with the arrival of our replacement corner cabinet.
Which means that the installer could come over yesterday (right at 8am, no less) to put in the final cabinet (which had to be reordered from KraftMaid due to the fact that the first one was BACKWARDS). Mike The Install Guy also took care of a few other finishing touches while he was here: adding toe kicks & shoe molding, venting the hood up through the attic and attaching the last part of our hood- all little things but they made a world of difference (proving that the devil really is in the details).
Tell me that's not a sexy hood.
And miraculously, after half a dozen frustrating phone calls to the sluggish Stonemark Granite people over the past two weeks we actually got them to agree to come out later today to start measuring for the countertops (even though we were originally told repeatedly that we'd have to wait 9 more days- um, no thanks).
That means that our new granite countertop is a mere 2-3 weeks away from being installed. Wahoo. I know 2-3 weeks doesn't exactly qualify as "mere," but let a guy lie to himself a little, will ya?
&nbsp&nbsp&nbsp